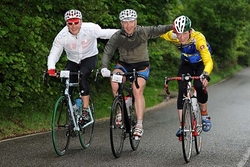 We have incorporated more Ride It events so the cycling community in the UK always have a great event to look forward to.
(PRWEB) March 10, 2010
The number of people participating in organised cycling events has skyrocketed going into 2010, according to Evans Cycles. The UK cycling community has a vast choice of events spanning the entire nation. These events all vary in style, difficulty, and length, each with their own unique twist. However, the basis is always the same – getting out on your bike and having fun!
Like for like the Evans Cycles Ride it! series entries are up 150% for Jan – Feb compared to this time last year, according to the last entries. This is further bolstered by the King of the Downs entries which have hit 500 already. Spaces are limited at 1200 so best to get in early to be apart of the South East's toughest sportive.
"With the amount of people getting on bikes its only natural that companies do everything they can to support this movement. We opened 4 new stores last year and have incorporated more Ride It events so the cycling community in the UK always have a great event to look forward to," says retail director at Evans Cycles, Mark Smith.
It's not only the Evans Cycles events that are growing. Organised rides throughout the UK seem to be popping up everywhere. The boom of people buying new bikes has opened up fantastic opportunities for cyclists to get out and ride new routes and join a large cycling community. Cycling calendars are full up this year with an event on nearly every weekend.
"The feedback we have had from all types of people shows how great organised events are. Hassle free, exciting, and friendly are just some of the many words people are using to describe our Ride it! series. Furthermore, it's a great day out for families with available routes for all abilities," Mark adds.
King of the Downs:
The King of the Downs Super Sportive is taking place on Sunday 23rd of May 2010. Organised by Evans Cycles Ride It!, the event takes on 113 miles and 10 major climbs - entries are now open for what some call the hardest sportive in the South East.
The King of the Downs Super Sportive has been created for those looking for an extra challenge over and above the usual Ride it! sportives that Evans Cycles hosts. Covering 113 miles this sportive will be a true test for man and machine; testing riders' prowess on the racing bike, while pushing their road cycling strength and endurance to the limit.
For those looking for a shorter distance challenge there is a 56 mile half sportive option. Just like all Ride It! events the King of the Downs route is fully marked out with free OS memory maps given to all participants.
Online pre-entry is the only way to enter for this event; this guarantees your spot for the race, which is limited to the first 1,200 riders. Great value at only £25, purchase your pre-entry for the King of the Downs 2010.
###