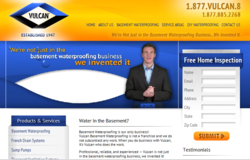 The Vulcan Basement Waterproofing site has been a pleasure to develop. We were amazed by the thousands of letters, emails and testimonials they provided. - decades of positive reviews - Vulcan has such a great story…and such a history of success!
Flushing, NY (PRWEB) August 16, 2012
Vulcan Basement Waterproofing has been a leader in basement waterproofing since 1947…in fact, "they are not just in the basement waterproofing business; they invented it!" The new website is ready just in time for spring rains and can be found at http://www.vulcanwaterproofing.com. The website, with its sleek new design, is loaded with do –it-yourself instructions and a host of important and helpful information for anyone looking for a solution to their problems with a wet basement.
Vulcan Basement Waterproofing provides a free, no-obligation estimate to analyze your particular problem and determine the solution that is right for each situation. Their services include do-it-yourself information, ventilation and dehumidification solutions, loss of power options, and many other services including crack repair, sump pump installation, and most impressive of all, their patented pressure relief system for controlling water in the basement while preventing hydrostatic pressure build-up in and around foundation walls.
The company approaches each job as a unique challenge to determine the most appropriate and cost-effective solution. They specialize in below-ground water problems and with over 65 years of experience, have dealt with just about every situation imaginable in a basement or crawlspace; from occasional dampness or mold to several feet of water. Each situation invariably presents its own challenge and requires a trained eye to determine the problem, the cause and the solution. Vulcan Basement Waterproofing is licensed and insured, bears the Service Magic Seal of Approval, is an accredited member of the Better Business Bureau, and has been for decades.
About Evans Alliance -
Evans Alliance, http://www.evansalliance.com, is a full service advertising agency conducting business in United States, Canada, Asia Pacific and Europe. They specialize in media buying, website development, web design, search engine optimization, web audio & video, Google Ad-Words, pay-per click, blog and social networking management, image development, branding, collateral, graphic design, direct mail, mailing list management, printing, broadcast (radio & TV), web-streaming advertising, Private Sales, on-site promotions, outdoor advertising, billboard, vehicle wraps, newsprint and periodical advertising and are the creators of STEM™ (Strategic Targeted Email Marketing) with over 50 million active opt-in email contacts in 40 countries.