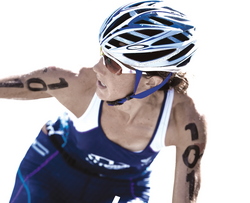 "I am excited to be working with a market leader in Cycle apparel and look forward to introducing Louis Garneau's innovation and value to the UK market", added Paul Markland, Clothing Buyer for Evans Cycles.
(PRWeb UK) February 8, 2011
Evans Cycles is proud to announce the premium Canadian manufacturer of cycle clothing, helmets and accessories; Louis Garneau, as the latest arrival to its ever-increasing exclusive brand portfolio. For over 25 years, Louis Garneau has been an innovator in the world of cycling. What started in his father's garage has grown into an internationally recognised industry leader that specialises in the design and development of technological and innovative gear. Driven by research and a technology-led approach to solutions, Louis Garneau products represent some of the most innovative and cutting edge in their field – the 'golf ball effect' textured surface found on the front of selected models of their aero helmet range which helps achieve a better laminar airflow is a prime example of this forward thinking approach to product design, and was no doubt the determining factor in helping Louis Garneau achieve the No. 1 slot in the aero helmet count at the 2010 Ironman World Championship.
With a strong emphasis on performance driven product you'd expect pro-level endorsement and Louis Garneau's athlete roster reads like no other;

3X successive Ironman World Champion Chrissie Wellington.
Chris Legh – winner of more than 85 triathlons and 5X Australian Triathlon National Champion.
The Canadian Cycling Association (all disciplines).
Europcar Professional Cycling Teama - a UCI Pro Continental Team (formerly Bouygues Telecom) which includes Thomas Voeckler, Antony Charteau, Pierre Rolland and Cyril Gautier.
In a vast range encompassing clothing, shoes, helmets, luggage, eyewear and accessories, Louis Garneau really is a one-stop-shop for all your cycling needs. First to hit the UK shores, and in time for the 2011 season, will be the triathlon products. A full range of Louis Garneau clothing products present in each and every one of Evans Cycles 43 UK-wide stores for Autumn 2011.
"Louis Garneau has been focused on developing the European market. The United Kingdom is strategic in this process due to its economy and similarity of the Independent Bicycle Dealer retail structure to that of North America. Evans Cycles was the ideal candidate with retail coverage throughout the country, ecommerce and mail order sales, and a strong online presence via social media, a blog, and their own website," remarks Bruno-Luc Gauthier, International Sales Manager for Louis Garneau.
# # #