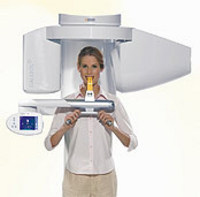 The Galileos Ct scanner is very precise.
Evanston, IL (Vocus) July 16, 2010
Sirona recently upgraded the hardware on the Galileos CT scanner and selected Dr. Daniel K. Marinic, an Evanston dentist, for the first office with the upgrade. The hardware upgrade further reduces the radiation exposure to patients. The dental field continues to push for these advancements in digital imaging.
In 2007, Dr. Marinic began his intensive search for the most advanced, versatile CT Scanning System to provide his patients a safe imaging system in his Evanston dental office. The Sirona Galielos CT Scanner and Maxillofacial Planning software system was incorporated into his Evanston dental office to provide his patients with the safest and most accurate dental implant and cosmetic dentistry care. At that time, Dr. Marinic became the only general dentist in a private practice in the United States to have a Galileos CT scanner in office.
Dr. Marinic has participated in over 1200 hours of continuing education in cosmetic dentistry, maxillofacial pain, laser training, oral surgery and dental implants. More than half of that training is in oral surgery and dental implants. Dr. Marinic saw the need for a Cone Beam Volumetric Tomography (CT) Scanner in order to provide his patients with the most accurate treatment planning as well as the safest method to perform these procedures, specifically dental implant placement. He is able to utilize the newest technology to put into practice all of his training.
"The Galileos Ct scanner is very precise." Dr. Marinic said. "In most dental offices conventional images taken are two-dimensional. 3-D images make the placement of implants safer, more predictable, and accurate. The Sirona system generates a three dimensional model of the patient's jaw on a computer screen and the surgery is performed virtually before the procedure even starts. With the upgrade the precision will remain and the safety level is increased."
For over 23 years, Dr. Marinic has been in private practice in Evanston, IL and has been on the leading edge of technology and training. He has focused his practice on cosmetic, advanced restorative, and implant dentistry. Over the years, he has integrated technology into his practice to allow him to treat his patients using minimally invasive dentistry. Galileos CT scanner provides the advanced technology with less than 10% of the radiation from a medical CT scanner.
For more information, please contact our office at (847) 475-8700 or by email info(at)drmarinic(dot)com. You can also visit our website http://www.chicagometrocosmeticimplantdentist.com.
# # #