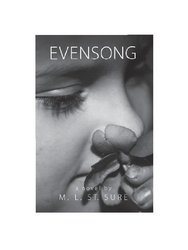 Clearly unafraid to work hard and think big. One can certainly appreciate her (M. L. St. Sure) careful attention to detail, diligent effort to research the period, and the ambitious scope of the work.
Baileys Harbor, WI (PRWEB) December 5, 2008
Author M. L. St. Sure will be appearing at a book signing event December 20, 2008 from 3:00-5:00 PM at Novel Ideas, a store for books, games and toys, located at 8085 Hwy 57 in Baileys Harbor, WI. St. Sure will be signing copies of her new book, 'Evensong,' a beautifully written novel detailing the courage of two young women during the 1940's, transported from the farm country of Missouri to France, as they experience the horrors of Nazi Germany. Profits from the event will go to the Sturgeon Bay Humane Society.
'Evensong' has received high praise. Here is a sampling of the reviews:
"Evensong takes readers back in time to the terrifying era when Hitler and his army threatened to change the world forever. …Not only are the cruelties of the Nazi's unveiled and laid bare, but so too the cruelty of a deep love in a time when love cannot be afforded. This is a moving story, one worthy of the attention of any interested in historical fiction."
Kristin Pace
BookPleasures
"Evensong is a riveting book. I loved it...couldn't put it down! It is set during the tragic, poignant, courageous time of WW II in France. The characters are so well drawn...you become a part of the enormity of the situation. I know that I won't forget these brave souls."
Susan S. Stone
"Christina's journey makes us realize the costs of war and how they affect everyone, no matter what their role is. A bittersweet story with a heart wrenching ending, 'Evensong' is a beautifully written novel. St. Sure transports us into the vivid world of the 1940s exploring everything from the lowest of the low to the highest of the high in the world. Readers become extremely attached to Christina and her sister Nicolette because St. Sure's characters are carefully crafted; they're vivid, interesting and provide different perspectives about what is going on in the world around them."
Lindsey Cook
Northern Iowan Book Critic
"This book is a riveting page-turner! I had trouble setting it aside once I began reading. …I seldom read a book twice, but this is worth a second reading."
K. K. McClelland
"This is a gripping historical drama set during WWII, which starts at the leisurely pace of a winged invertebrate trapped in amber, and then gathers momentum rapidly as it pulls the reader along toward the totally unexpected ending. The author (M. L. St. Sure) skillfully navigates the reader through the horrors of the war and the concentration camps, giving just enough information for the reader to squirm with a little righteous indignation without the over-bubbling of bile. Before long however, the story heats up again with a kidnap and rescue operation worthy of a major motion picture."
Amanda Richards
Top 50 reviewer - Amazon.com
"M.L. St Sure's 'Evensong' sets those dark days of WW2 against a story of powerful sisterly love, the bonds of family and the hypnotic spell of music. Christina Cross is a wartime heroine you're bound to fall in love with. A fascinating book."
Byron Kolln
Top 50 reviewer - Amazon.com
"Written with brio and filled with ecstatic reveries and 11th-hour rescues, St. Sure's prose has a passion . . . action-driven and enjoyable ride . . . spirited work."
Kirkus Discoveries, June 1, 2008
"Clearly unafraid to work hard and think big. One can certainly appreciate her (M. L. St. Sure) careful attention to detail, diligent effort to research the period, and the ambitious scope of the work."
Foreword Clarion Reviews, February 28, 2008
'Evensong' (ISBN: 978-1-4196-8106-6) by author: M.L. St. Sure is available on Amazon.com at http://www.amazon.com/Evensong-M-L-St-Sure/dp/1419668242
About M. L. St. Sure
M. L. St. Sure began writing as a child. Her Dad was in the Marines during World War II. Growing up, she continually questioned him about the war, his medals, photographs and letters to her Mom. The more she pressed him for answers, the more reticent he became. By the time she was eight years old she found herself writing war stories in the closet where her Dad's uniform hung.
In college, St. Sure majored in English, still writing stories in her free time. After college, she attended the Iowa Writer's Workshop. At the end of one summer session, she received the news her Dad had passed away. She was heartbroken that she never had the chance to know him. Then, a few months later, a package arrived in the mail. Wrapped in old newspapers were her Dad's war journals. She was elated, but after pouring over them and learning about her father's war experience, she finally understood why he never spoke of that time.
Her husband, Ken and her daughters encouraged St. Sure to write his story. Her book 'Evensong' is dedicated to her Dad.
Contact:
Mary Bussard
marybussard (at) aol.com
###