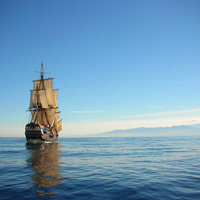 We're excited about PAAM being part of the Swedish Ship Götheborg's northern European tour. The application is highly customisable and PAAM getting her sea legs really shows how modular it is! Mark Hatchard, PAAM co-creator
Hampshire (PRWEB UK) 16 May 2012
UK Event Management Software PAAM to launch in June 2012 with the famous Swedish Ship Götheborg on its northern European tour.
The popular PAAM Event Management Software is setting sail on the high seas this summer after it was picked to help man the decks of the famous Swedish Ship Götheborg (SOIC). The innovative application is helping to simplify and streamline the recruitment and management process for the ship's northern European tour, as sea dogs from all over the world vie for the ever-popular positions on-board.
Each job on the reconstructed 18th century sailing boat, whether it be deckhand, photographer or blogger, has been plugged into the bespoke build of the modular PAAM system, allowing SOIC to setup variable pricing, dates and duties. PAAM has also enabled the tour's organisers to utilise fast one-click applicant database searches, consolidated messaging and easy online payment, among many other essential features.
Due to launch on June 30, 2012, the Götheborg - one of the largest full-rigged wooden sailing ships in the world - is entrusting PAAM to act as first mate for all three legs of its journey. The legendary vessel will drop anchor in the Netherlands, France and Germany, with PAAM also providing a helping hand with the recruitment and management of event staff for various exciting land-based events.
From humble beginnings as a simple online application form in 2001, the pioneering PAAM system is always evolving and was rebooted and re-launched just last year, offering its ever-growing client-base a whole host of new features. Detailed tracking of user activity and event statistics, new rating features to allow for an informed selection of applicants, and a customisable frontend were among 2011's tasty tweaks.
Created by Hotbox Studios, PAAM is hosted in UK data centres, runs entirely over SSL, is based on Cloud architecture and runs via hardware and software solutions from leading vendors such as Dell, Cisco and Microsoft. In 2011 alone, the system was used to accept over eleven thousand applications for events across the UK, including the Glastonbury Festival, Reading and Leeds Festivals and the Latitude Festival.
For further information visit http://www.paamapplication.co.uk.