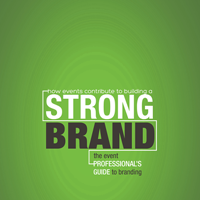 We hope this content will help connect the dots for event professionals who are looking to transform their role in the brand-building process
San Francisco, CA (PRWEB) November 07, 2012
Certain, Inc., the leading provider of event management technology for the global meetings and events planning industry, announces the launch of a new guide for event professionals and marketers. Titled, How Events Contribute to Building a Strong Brand, the guide is designed to help marketers, event owners, and event professionals achieve their desired branding objectives.
According to Certain, the meetings and events industry is in the midst of a significant transformation where event professionals are shifting from a traditional emphasis on operational excellence, logistics, and expense management toward the true value of events as sales and marketing enablers. Certain's latest guide addresses this transformation by providing strategic and practical advice to help event organizers use branding to build event value and marketers to leverage events in support of their corporate or product brands.
The guide is available as a free download on the Certain.com website. It includes information on the importance of branding and how to drive brand value through meetings and events. The guide also addresses three ways in which branding plays out in events and meetings: branding an event itself, delivering a corporate or product brand message through events, and creating synergy with other successful brands.
The content also includes guidance on creating brand consistency across an event and keys to successful implementation. Finally, there is a section containing helpful advice on what to look for in an event management platform in order to maximize both the brand value and operational efficiency of an event.
"We hope this content will help connect the dots for event professionals who are looking to transform their role in the brand-building process," remarks Betsy Zikakis, Marketing Consultant for Certain, Inc.
Download a free copy of the guide at http://discover.certain.com/EventsBuildStrongBrand.html.