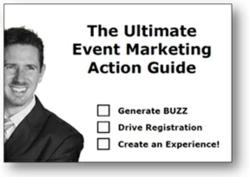 free 8-page event marketing guide
San Francisco, California (PRWEB) April 05, 2012
Author and Bloomberg speaker, Patrick Schwerdtfeger, announced the release of a free and highly tactical marketing guide for meeting planners. The guide provides specific step-by-step instructions to leverage social media for upcoming events. In particular, this free 8-page PDF file includes:
1. The top 10 things to do BEFORE the conference.
2. The top 10 things to do DURING the conference.
3. The top 10 things to do AFTER the conference.
4. The top 10 things to do if you have a BIG budget.
This free offering is designed to help meeting planners generate buzz and drive registration for the conferences and conventions they are planning. "Most people using social media today are just wasting time," explains Schwerdtfeger, "and this free guide will help meeting planners get measurable results."
Professional meeting planners can download the free 8-page PDF file on Patrick's website. The document also comes with full explanations to enhance clarity. Meeting planners are encouraged to pass the free event marketing guide along to industry colleagues, allowing for more effective events for the entire industry.
About Patrick Schwerdtfeger
Patrick Schwerdtfeger (@schwerdtfeger on Twitter) is a keynote speaker who has headlined events for Bloomberg TV, Bank of America, Comcast Cable, Research in Motion (BlackBerry), Time Warner Cable and United Healthcare among others, as well as dozens of conferences and conventions around the world. His programs focus on business trends, small business marketing and the social media revolution.
Patrick is the author of Marketing Shortcuts for the Self-Employed (2011, Wiley) as well as Webify Your Business: Internet Marketing Secrets for the Self-Employed (2009) and Make Yourself Useful: Marketing in the 21st Century (2008). He has been featured by the New York Times, LA Times, San Francisco Chronicle, CNN Money, Fortune, Bloomberg Businessweek, the Associated Press, MONEY Magazine and Forbes, among others.
Patrick is available for television appearances and media interviews. He can be contacted at 415-881-7530.