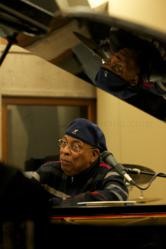 Scott has the unique ability to turn an ordinary scene into the extraordinary
San Francisco, CA (PRWEB) May 23, 2012
San Francisco's Scott Chernis Photography is documenting and creating an image library of students' and the general public's involvement in SFJAZZ's growing educational programs. Chernis--a professional photographer whose many hats include working as a commercial photographer, event photographer, lifestyle photographer and university photographer--will be collaborating with SFJAZZ, which is building a concert hall that will be the first of its type in the western United States.
"Scott has the unique ability to turn an ordinary scene into the extraordinary," Claire Phillips, the educational program manager for SFJAZZ, said. "He is able to blend in at any event in order to capture the most memorable moments without people noticing. I highly recommend Scott Chernis, as he is professional, reliable and, most importantly, a pleasure to work with."
The SFJAZZ Center will be a cornerstone of the San Francisco art and music scene and is being built for jazz performances and education. SFJAZZ's growing education program touches the lives of children and adults throughout the Bay Area. The SFJAZZ Center will represent a milestone for the authentic American art form of jazz and the city of San Francisco.
Chernis' photographs, from the groundbreaking to the completion of the SFJAZZ Center, will be a visual record of this historic moment and will go a long way in helping to raise money and create an interest in the programs. The SFJAZZ Center is slated to open in January 2013.
For more information about Scott Chernis Photography's services, call 415-813-4198 or view his gallery at http://www.scottchernis.com.
About Scott Chernis Photography
Scott Chernis specializes in food, jazz and performance, and professional photography. He chiefly serves the Bay Area. Chernis' career in photography started in New Orleans as a student at Tulane University. To this day, he continues to travel back home to the Crescent City to capture the abundant musical traditions of New Orleans. Scott Chernis is an event, lifestyle and freelance photographer.