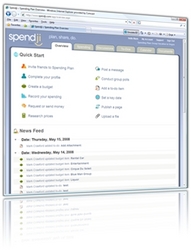 We give users a head start on decision-making by offering recommendations based on the accumulated experience of our user base.
Detroit, MI (PRWEB) June 24, 2008
Plans365 Inc. announced the launch of Spendji.com, a new web application that enables consumers and groups to plan their spending and manage the logistics for activities, events and projects through an intuitive online interface.
Individuals, families, groups of friends and organizations, including small businesses and nonprofits, will all find Spendji helpful for planning activities. Uses include reunions, trips, vacations, company events, college activities, weddings, school functions, household projects, community gatherings and group meet-ups.
Spendji provides a collaborative environment where multiple participants can aid in the planning process. Through both in-house data and integration with third-party APIs, the site helps users determine what their needs and expenses will be for the activity. Prices for goods and travel can be researched directly from the site and expenses can be recorded. Payments functionality is also provided via Amazon Payments to help users collect and disburse money as required.
"A focus on budgeting and spending guidance is what makes Spendji unique," said Arpan Patel, cofounder and CEO, Plans365. "We give users a head start on decision-making by offering recommendations based on the accumulated experience of our user base."
Spendji's technology ensures that suggestions get smarter over time, providing increasingly accurate budget guidance as more users are added. "We've developed proprietary algorithms that help us identify best spending and planning practices we can actively promote to benefit our users," said Mark Crawford, cofounder and CTO.
In addition to its budgeting core, Spendji provides a suite of sophisticated, yet simple tools to help users get organized, access information centrally and stay in touch through the activity's successful completion. These include message boards, to-do lists, group polls, document sharing, calendar alerts and reminders.
"Users can increasingly take advantage of the collective wisdom of the Spendji community as it grows - a big advantage when you're first starting to plan something. In addition, keeping all the details current and clear is difficult when several people are involved. Spendji handles that problem as well," added Patel.
To sign up for a free Spendji account, visit http://www.spendji.com.
About Plans365 Inc.:
Spendji is a product of Plans365 Inc., founded in 2005 and based in Detroit, Michigan and Northern California. Its mission is producing software that leverages the Internet to get people more connected, informed and productive, while helping them make the most of their money. The company is privately held and backed by angel investors.
###