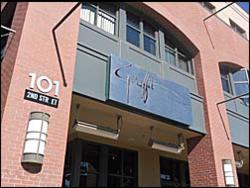 Petaluma, CA (PRWEB) February 18, 2012
Petaluma's riverfront dining restaurant, Graffiti, announces the availability of its Petaluma banquet hall and meeting room, which provides an excellent venue for any conference dinner or business meeting.
Graffiti customizes any banquet to fit the specific needs of the event, regardless of whether it is a business meeting, party or wedding. The room comfortably fits up to 40 people and features views of the Petaluma River and the Sonoma Mountains. Graffiti may also accommodate up to 90 people in its main dining area and 130 guests on its patio.
As one of Petaluma's best restaurants, Graffiti features delectable meals for lunch, brunch and dinner, and the widest wine selections anywhere in the North Bay. Graffiti also participates in the Petaluma Arts Council's "Art Around Town," which showcases art at public locations in Petaluma.
Graffiti is also happy to announce its event planning services. In addition to the beautiful views the restaurant boasts, Graffiti will make any occasion and celebration memorable.
For more information about any of Graffiti Restaurant's products or services, call 707-766-0609, view the restaurant on the web at http://www.graffitipetaluma.com or visit 101 Second St. in Petaluma.
About Graffiti Restaurant
Come to downtown Petaluma and enjoy Graffiti Restaurant's expansive, contemporary dining room and sweeping terrace on the Petaluma River, or settle into its comfortable, San Francisco-style lounge with full-service bar.
Graffiti is located on the northwest corner of the Basin Street Landing building adjacent to Boulevard Cinemas and the Great Petaluma Mill in the new Petaluma "Theater District." Reservations are recommended, especially on weekends. For reservations, call 707-766-0609.
###