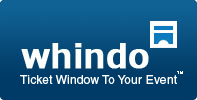 We listened to our customers and released this new version that makes custom registration and data collection easier and more robust
Austin, TX (PRWEB) November 21, 2011
Whindo, The Ticket Window to Your Event, has launched version 1.0.6 of their event registration and ticketing platform, an upgrade based on user feedback that extends online registration with enhanced data collection and reporting.
"We listened to our customers and released this new version that makes custom registration and data collection easier and more robust," says Russell Bellow, Whindo CEO. "For example, we have customizable survey questions that can be appended to standard checkout questions."
The upgrade provides the data collection capabilities to fulfill dynamic event registration requirements. Many common data points (name, email, phone, company, title, address, etc.) have been available and include built-in validation. These standard questions only need to be enabled based on the event's data collection strategy. It is now also possible to create up to 20 custom survey questions for each event.
"It is import to consider the information you want to collect from your registrants during the event registration process. For a conference or trade show the attendee registration list is often provided by the event organizer and is negotiated as part of the value-added marketing sponsorship. Now custom data points such as product interest, purchasing time frame, etc. can be collected during checkout can greatly enhance that sponsorship value."
About Whindo
Whindo is an online event registration solution that enables anyone to create a custom event website, send promotional email invitations, securely collect ticket fees, and manage attendees. For more information visit http://www.whindo.com or follow the Whindo team on Twitter at http://twitter.com/ticketwhindo/.
###