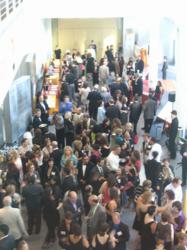 As a contemporary art center, YBCA's visual and performing arts programs are not about consumption, but about provoking audiences to rethink their aesthetic experience.
San Francisco, CA (PRWEB) February 04, 2012
Yerba Buena Center for the Arts (YBCA) has long been a popular choice for technology conferences, civic events, and nonprofit fundraisers, but YBCA's downtown San Francisco event venues are increasingly being booked by creative industries including design, marketing and cultural gatherings. Four recently announced events scheduled for 2012—TYPO SF, KA Connect, PromaxBDA Game Marketing Summit, and AIGA's Gain: Design for Social Value Conference—typify this trend.
"As a contemporary art center, YBCA's visual and performing arts programs are not about consumption, but about provoking audiences to rethink their aesthetic experience," said Scott Rowitz, YBCA's Managing Director. "Many design and cultural gatherings want their own guests to have this same experience, and are therefore booking YBCA as opposed to traditional hotels or convention centers."
TYPO, one of Europe's most successful design conferences, has added an annual event in San Francisco at YBCA on April 5-6, 2012 centered on the theme "Connect." TYPO San Francisco brings together incredible speakers from both European and American design communities to share their work and insights on what it means to connect.
KA Connect 2012, "The Future of Practice: Research, Marketing, and Technology in the AEC Industry," coming up on April 11, is a knowledge and information management conference for the Architecture, Engineering, and Construction (AEC) industry. The focus will be on three intersecting trends driving the future of practice—research, marketing, and technology. Knowledge leaders from all over the world will come together to share case studies, best practices, and ideas about how they organize information and manage knowledge in their firms.
On April 17, YBCA welcomes the PromaxBDA Game Marketing Summit, a must-attend annual event for marketing professionals focused on the issues, trends and emerging opportunities crucial to success in the video gaming space. With a mission to lead the conversation about the role that marketing, promotion, media and advertising play in the monetization of video game and interactive entertainment, this one-day event has become a critical, all-inclusive forum for common thought, bond and community for game marketing professionals since its inception.
And later in the year, AIGA will host the two-day "Gain: Design for Social Value Conference" at YBCA. Guests will hear leaders in design, business, and social innovation share their visionary approaches to creating social value. Presenters will demonstrate the broadening role design plays in institutional strategy, leadership, process and service, and product and message. Attendees will learn how the creative attributes of designers provide special advantages to tackling socially relevant projects and enhancing the human experience.
Event planners looking to deepen their audience experiences by utilizing artistic, design-heavy venues can book a variety of event spaces—with consecutive dates—at YBCA.
YBCA offers rentals of two landmark San Francisco event spaces located along the west side of Third Street between Mission and Howard: the Galleries and Forum Building and the Novellus Theater.
The Galleries and Forum Building, a San Francisco event venue designed by Japanese architect Fumihiko Maki, houses three event spaces. The 6,700 square-foot Forum is a contemporary, spacious, elegant and flexible space that offers diverse possibilities for any performance, lecture, meeting, social gathering or other special event. The intimate 94-seat Screening Room offers state-of-the-art equipment for screenings, lectures and a variety of presentations. The spectacular two-story-tall Grand Lobby, which opens into the heart of Yerba Buena Gardens, offers reception and special event space for up to 350 guests.
YBCA offers rentals year-round to all types of organizations and conferences. To learn more about available dates for YBCA event and meeting spaces, the application and contracting process, plus standard fees for venues, staffing and equipment, call (415) 513-1226, e-mail events(at)ybca(dot)org, or visit YBCA at http://www.ybca.org/rentals.
About Yerba Buena Center for the Arts
Yerba Buena Center for the Arts, located in San Francisco's Yerba Buena cultural district, is one of the nation's leading multidisciplinary contemporary arts centers. With a belief that contemporary art is at the heart of community life, YBCA brings audiences and artists of all backgrounds together to express and experience creativity. The organization is known for nurturing emerging artists at the forefront of their fields and presenting works that blend art forms and explore the events and ideas of our time. As part of its commitment to the San Francisco Bay Area, YBCA supports the local arts community and reflects the region's diversity of people and thought through its arts and public programming. YBCA presents programming year-round in the Forum, Screening Room, Galleries and Novellus Theater. For tickets and information, call 415.978.ARTS (2787) or visit http://www.ybca.org.
###