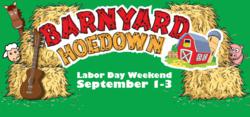 San Francisco, CA (PRWEB) August 31, 2012
The San Francisco Zoo invites Bay Area families to come and enjoy a Barnyard Hoedown complete with a kid-friendly mechanical bull, real country BBQ, live country western music and an opportunity to check out the Zoo's own barnyard animals inside the Children's Zoo Family Farm. The family fun event takes place Labor Day weekend, Saturday, Sept. 1, through Monday, Sept. 3, from 11 a.m. to 2 p.m. each day.
Local honky-tonk band, Kit and the Branded Men, will be performing Saturday and Sunday with their special brand of country music. Glen Earl Brown Jr. and Bay Area sweetheart Kit Lopez will sing and play and entertain in the style of Johnny and June Carter Cash. On Monday, The River Rats will perform their take on classic country tunes from Waylon Jennings, George Jones and more.
The schedule for the Children's Zoo Family Fun Farm Activity Schedule is as follows:

10:30 a.m. - Stampede
11:15 - 11:30 a.m. - Chick Hatchery Tour
11:30 - Noon - Rope Lasso Game
Noon - Horse Training Session
2:15 - 2:30 p.m. - Life on the Farm
2:40 - 2:55 p.m. - Life on the Farm
3:30 p.m. - Pond Feeding
4 p.m. - Donkey Grooming Demonstration
For more about the Barnyard Hoedown, please call 415-753-7080, go to sfzoo.org or visit the Zoo at 1 Zoo Road in San Francisco.
About the San Francisco Zoo
Encompassing 100 acres, the historic San Francisco Zoo is Northern California's largest zoological park. The Zoo is home to exotic and rescued animals from all over the world and is located across from the Pacific Ocean. The African Savanna offers a multi-species landscape with giraffes, zebras, kudu, ostriches and more. Go nose to nose with famed grizzly sisters Kachina and Kiona at Grizzly Gulch; watch lemurs leap through the largest outdoor lemur habitat in the country; visit Penguin Island; marvel at a troop of gorillas; and feed farm animals in the popular Children's Zoo. Take rides on one of the world's only old-fashioned miniature steam trains and the historic Dentzel Carousel. It is also a great Bay Area event venue for kids parties and other celebrations. The Zoo is open daily from 10 a.m. to 4 p.m. and is located at 1 Zoo Road, San Francisco, 415-753-7080. Visit http://www.sfzoo.org for more information.