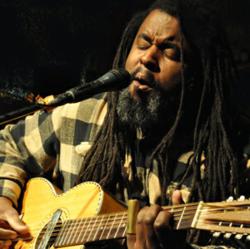 Alvin Youngblood Hart is the cosmic American love child of Howlin Wolf and Link Wray
San Francisco, CA (PRWEB) September 27, 2011
Multi-awarded guitarist Alvin Youngblood Hart will once again grace the stage of Biscuits & Blues with a solo acoustic show on Saturday, October 1 at 2 p.m. The show will be part of his three-day arc of appearances in the San Francisco Bay Area and his first appearance at Biscuits & Blues in more than five years. Advance tickets are priced at $22. Tickets purchased at the event venue on performance day will cost $25.
"Alvin Youngblood Hart is the cosmic American love child of Howlin Wolf and Link Wray," states Steven Suen of Biscuits & Blues. "Known as a musician's musician, his praises have been sung by everyone from Bob Dylan to Brit guitar gods Eric Clapton & Mick Taylor. Since his 1996 debut recording, the all-acoustic Big Mama's Door, Alvin Youngblood Hart has carried his musical message the world over."
Biscuits & Blues was originally developed as an offering to music lovers who wanted an intimate setting to see their favorite blues artists. Now, 16 years later, Biscuits & Blues is one of the top blues clubs in the nation. They offer San Francisco's best in national and regional blues acts while showcasing award winning southern cuisine.
California Rough Guide describes Biscuits & Blues as "almost too good to be true. Great food at reasonable prices and the absolute best place to see live music."
For more information on the San Francisco party venue Biscuits & Blues, call 415-292-2583 or visit them online at http://www.biscuitsandblues.com. Biscuits & Blues is located at 401 Mason Street San Francisco, CA 94102.
About Biscuits & Blues
For more than 16 years, Biscuits & Blues has been one of America's premier blues venues. They are home to the blues and also present top acts in genres such as jazz, R&B, and Latin jazz. Their intimate setting and unobstructed stage views, fine food and international clientele make Biscuits & Blues a must-visit landmark in the San Francisco Bay Area. Biscuits & Blues also caters to private functions such as office parties, cocktail parties, buffets, sit-down dinners or business functions. They can accommodate the clients' every need from full restaurant and bar service to first-class entertainment with memorable flair.
###