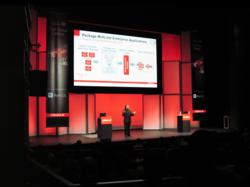 For many years running, Oracle has chosen to join with YBCA to hold several of the OpenWorld events at our outstanding venues.
San Francisco, CA (PRWEB) October 16, 2011
Oracle's largest ever educational and networking event, OpenWorld, took over the Moscone Convention Center in downtown San Francisco October 2- 6, 2011. The massive event brought together 45,000 attendees from 117 countries to participate in thousands of sessions and meet hundreds of exhibitors. Oracle chose Yerba Buena Center for the Arts (YBCA), which is adjacent to the Moscone Center and one of the premier event spaces in San Francisco, as one of the major venues for its sessions.
"For many years running, Oracle has chosen to join with YBCA to hold several of the OpenWorld events at our outstanding venues," said Lisa Elliott, YBCA's Events Director. "We're located next to the Moscone Center, and offer all of the latest technical systems, IT and event management services needed to make any event go smoothly."
YBCA offers rentals of two landmark buildings located along the west side of Third Street between Mission and Howard streets: the Novellus Theater, the Galleries and the YBCA Forum. YBCA's buildings feature multiple event spaces that are specifically designed to accommodate a wide range of occasions.
YBCA's Novellus Theater and Forum were home to many Executive Solutions Sessions. The Novellus is a 757-seat theater featuring two-tier seating, dual-level lobbies, a spacious stage, superior sight lines and a vast technical inventory. A special Juice Bar, sponsored by Dell, was set up in the courtyard between the Novellus Theater and Forum for OpenWorld attendees.
The goal of OpenWorld is to provide "…thousands of sessions and hundreds of demos geared toward helping your company get better results with the technology it has, and plan strategically for the technology it will need to keep ahead of the competition in the years to come," said an Oracle spokesperson.
According to Oracle, 2011 was the largest year in OpenWorld history. Overall, Oracle OpenWorld offered over 3,200 speakers in 2,000 sessions across eight venues. It was joined with the JavaOne show that Oracle inherited from the purchase of Sun Microsystems.
Scott Rowitz, YBCA's Managing Director, added, "As an entity of the City of San Francisco, Yerba Buena Center for the Arts is extremely grateful for both the revenue and overall goodwill generated by Oracle and their OpenWorld events. This is a perfect example of how corporate citizens can support the arts and communities-at-large in their area."
Due to their award-winning design, technical capabilities and central location, YBCA's San Francisco event venues have been the first choice for many major corporate events over the past several years. Other recent YBCA corporate event clients have included Apple, Comcast, Google, Hewlett/Packard, Motorola, Novellus Systems, Salesforce.com, and Wired magazine.
To learn more about available dates for YBCA event and meeting spaces, the application and contracting process, plus standard fees for venues, staffing and equipment, call (415) 513-1226, e-mail events(at)ybca(dot)org, or visit YBCA at http://www.ybca.org/rentals.
About Yerba Buena Center for the Arts
Yerba Buena Center for the Arts, located in San Francisco's Yerba Buena cultural district, is one of the nation's leading multidisciplinary contemporary arts centers. With a belief that contemporary art is at the heart of community life, YBCA brings audiences and artists of all backgrounds together to express and experience creativity. The organization is known for nurturing emerging artists at the forefront of their fields and presenting works that blend art forms and explore the events and ideas of our time. As part of its commitment to the San Francisco Bay Area, YBCA supports the local arts community and reflects the region's diversity of people and thought through its arts and public programming. YBCA presents programming year-round in the Forum, Screening Room, Galleries and Novellus Theater. For tickets and information, call 415.978.ARTS (2787) or visit http://www.ybca.org.
###