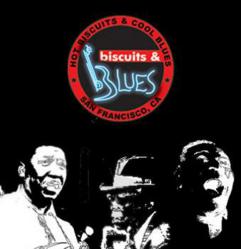 San Francisco, CA (PRWEB) June 27, 2013
San Francisco's top spot for blues, Biscuits & Blues is excited to announce their live performances for July. Known for the talent on their lineups and their intimate venue space, Biscuits & Blues is known nationwide as the best place to catch live blues music.
Biscuits & Blues kicks off July with a special weekend of B.B. King music.
From July 5 - July 7, The B.B. King Tribute w/Billie "Big Daddy" Cade takes the stage. This performance is for all the B.B. King fans as Billie Cade puts on a great show. Sounds like B.B. and even looks like him. Tickets are $20.
On Friday, July 12, John Lee Hooker Jr. will take the stage from 8-10 p.m. As the son of blues legend John Lee Hooker, Hooker Jr. was exposed to the genre throughout his life. Hooker Jr. created a sound of his own, and is recognized as a talent in his own right. This will be his final show at Biscuits & Blues. Tickets for this show are $24.
On Friday, July 19, Lavay Smith & her Red Hot Skillet Lickers returns to Biscuits & Blues for two sets at 8pm & 10pm. Her soulful vocals and lively sound makes her show a must see. Tickets for her show are $20
On Thursday, July 25 and Friday, July 26, blues singer, Grady Champion will be back on the Biscuits & Blues stage from 8-10 p.m. Champion uses his voice and harmonica talents to bring classic sounds to a modern audience. Tickets are $20.
July's lineup is filled with artists like Tinsley Ellis, Candye Kane, Rich Del Grosso, Lavay Smith, Mofo Party Band, The Hound Kings and a B.B. King Tribute.
The entire lineup for July can be found on the Biscuits & Blues website, http://www.biscuitsandblues.com/lineup.
Biscuits & Blues is also featuring new menu items. Start off the night with an appetizer like catfish fingers with jalapeno tartar sauce or the Cajun fried calamari. Some of the new entrées include two new Po-Boy Sandwiches and succulent braised pork shank. Complete the meal with a scrumptious slice of blackberry peach cobbler.
To plan a fantastic night full of blues, a delicious meal and cocktails, please visit the Biscuits & Blues website: http://www.biscuitsandblues.com.
About the company:
Biscuits & Blues is a full restaurant, bar, and nightclub and one of the reasons why San Francisco is on the map for music lovers. Located at 401 Mason St. at Geary, they have been voted America's #1 Blues nightclub by the Blues Foundation and the Bay Area Blues Society. It is San Francisco's home to great live music in an intimate setting, where everyone gets a front row seat.
Biscuits & Blues features savory award-winning Southern-style cuisine, California wines, micro-brews, and specialty cocktails – all at reasonable prices that please tourists and our loyal Bay Area clientele.
Biscuits & Blues is also an event venue for parties. They can host everything from office parties to family reunions. For more information and current lineup, please visit their website.