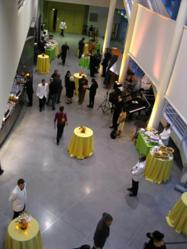 As a non-profit organization ourselves, YBCA understands the importance of welcoming and supporting other non-profit organizations and their events
San Francisco, CA (PRWEB) December 08, 2011
As non-profit organizations start planning events for the coming year, Yerba Buena Center for the Arts (YBCA) is proud to offer event venue rentals to non-profit organizations at special rates. YBCA's outstanding downtown San Francisco event spaces include venues for events of various sizes, easily accommodating both small and large non-profit organizations.
YBCA houses two premier downtown San Francisco event venues, located along the west side of Third Street between Mission and Howard streets and adjacent to the Moscone Convention Center. YBCA offers rentals in the two landmark buildings—the Galleries and Forum, designed by Japanese architect Fumihiko Maki, and the Novellus Theater, designed by American architect James Stewart Polshek. The spaces consist of the 6,700 square-foot YBCA Forum, the 94-seat Screening Room and the Grand Lobby. The Novellus Theater has 757 seats plus the stunning Theater Terrace Lobby. Both buildings feature multiple event spaces that are specifically designed to accommodate a wide range of occasions, including community, non-profit and corporate events.
"As a non-profit organization ourselves, YBCA understands the importance of welcoming and supporting other non-profit organizations and their events," said Scott Rowitz, YBCA's Managing Director. "Our core values hold that the vitality of life in the Bay Area depends on our continued exposure to varied perspectives and beliefs – and oftentimes this comes in through our hosted non-profit events."
Organizations that choose to book with YBCA can utilize available lists of Preferred Vendors and Preferred Caterers to conveniently choose event partners as needed. YBCA offers many additional event services including box office sales, technical supervision, equipment rental, IT and guest WiFi, coat check, security, and janitorial.
Non-profit partners must be the contracted party and have proof of 501(c)3 status to receive special pricing on venues and equipment rentals.
Recent non-profit clients include Kiva, TedX, AIGA SF, Center for Environmental Health, Breast Cancer Fund, Project Inform, Opportunity Fund, and Public Advocates. Many non-profit organizations that choose to host their events at YBCA return to host future events at YBCA's venues.
To learn more about available dates for YBCA event and meeting spaces, the application and contracting process, as well as standard fees for venues, staffing and equipment, call (415) 513-1226, e-mail events(at)ybca(dot)org, or visit YBCA at http://www.ybca.org/rentals.
About Yerba Buena Center for the Arts
Yerba Buena Center for the Arts, located in San Francisco's Yerba Buena cultural district, is one of the nation's leading multidisciplinary contemporary arts centers. With a belief that contemporary art is at the heart of community life, YBCA brings audiences and artists of all backgrounds together to express and experience creativity. The organization is known for nurturing emerging artists at the forefront of their fields and presenting works that blend art forms and explore the events and ideas of our time. As part of its commitment to the San Francisco Bay Area, YBCA supports the local arts community and reflects the region's diversity of people and thought through its arts and public programming. YBCA presents programming year-round in the Forum, Screening Room, Galleries and Novellus Theater.
# # #