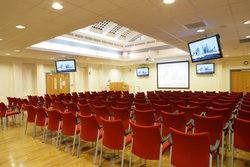 London, UK (PRWeb UK) June 1, 2010
The launch of the new W12 Conferences website makes life easier for anyone choosing between London conference venues or planning events in the capital or elsewhere in the UK. As well as comprehensive information on event management, the new site makes it easy for organisations to mix and match from 11 different-sized rooms and suites to ensure the perfect London conference venue.
Few London conference venues offer W12 Conferences' range of choice, or its combination of modern, newly-refurbished facilities and event services. As expected of top venues in London, W12 Conferences is easily accessible by private or public transport. With such a well-equipped, convenient location just west of Paddington, anyone contemplating venue hire in London need look no further for their needs. The venue even boasts a convenient location near to Westfield, Europe's largest indoor shopping complex - how many conference, meeting or event venues in London offer that?
Conference facilities
For a leading conference services provider, conference facilities should mean more than just rooms and AV-equipment. As one of the leading conference facilities in the UK, W12 Conferences offers clients a highly experienced team. It's the key to getting the most out of any conference facility in London. Along with a particularly convenient location amongst London conference facilities, this can make the difference for anyone requiring a conference facility in the capital.
Conference meeting rooms in London
A visit to the new website will reward anyone seeking a meeting room in London. A versatile selection of conference meeting rooms features strongly. Although some conference rooms in London don't have air-con and daylight, these do, making them amongst the more delegate-friendly conference rooms London offers. With a choice of 11 different-sized meeting spaces, choosing meeting rooms in London couldn't be easier than on the new site.
Event management services
The new website is packed with details of event management services for discerning organisations. Not all event management companies have their own 11-room London venue; W12 Conferences does. The company's experienced event management team also provides a full event management service across the UK. From quad biking in Wales to a medical conference in London, the skills of this experienced event management company are just a few mouse clicks away.
Event marketing
The new W12 Conferences website also highlights the proven event marketing skills of what is clearly an experienced event marketing company. Events marketing involves much more than just mail shots. From ensuring full understanding of an organisation's marketing strategy to arranging dedicated mailings and event websites, the W12 Conferences team takes the hassle out of event and conference marketing with a professionalism that many other event marketing companies can surely only aspire to.
Event organisers
Visiting W12 Conferences online will help you see why we have such a good reputation as event organisers - delivering successful events. It's what professional event organisation is all about - the perfect venue, supported by the meticulous event planning and delivery that only the best event planning companies can offer. Whether an event is in London or elsewhere, W12 Conferences, as the new website shows, is a leading event organiser delivering an experience delegates will remember for ever.
Conference organisers
Professional conference organisers free clients to get on with other business activities - and then enjoy the conference and the kudos it generates! The new W12 Conferences website details the conference event management services available from this expert team - and their versatile 11-room venue in West London. Conference management or a conference organiser plus venue? Either way, the services of our experienced professional conference organisers is just a few clicks away.
Speaker and delegate management
Everyone knows that high-quality delegate and speaker management turns mundane events into amazing ones. From efficient delegate registration support to sourcing the world's leading conference and event speakers, the new W12 Conferences website unlocks the door to trouble-free delegate management and speaker management for large or small events. Naturally, the website contains full details of all W12 Conferences delegate management services and a fast way to contact the London-based team.
Need a conference centre or reliable event management support? The new W12 Conferences website is an easy-use showcase for this versatile conference centre and its professional UK-wide event management team.
###