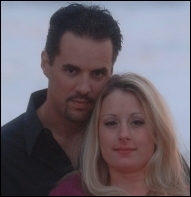 As a couple, it took a while to realize how to separate our business from our personal life
San Jose, CA (PRWEB) April 18, 2007
Loren and Vanessa Ellis have taken the event marketing world by storm with steadfast creativity, distinction, and professionalism…and the best part is, they get to seal each deal with a kiss. As co-owners of Bullz-Eye Marketing & Events, the Ellis' cover every aspect of corporate and event marketing including custom exhibit design and manufacturing, corporate events and environments, graphic design, and distributing an extensive line of portable and modular exhibit solutions. With over 28 years of combined experience in the trade show and events industry, this extraordinary husband and wife team represents the new generation of the long-celebrated "Mom and Pop" shop.
With many of the current exhibit and event marketing companies owned by corporations or multi-tiered partnerships, it is not often that you find owners that have met in the business, managed accounts together, married and opened up shop together. Travel, workloads and long hours of the industry prove to be challenging for most couples already. The Ellis's, however, were able to embrace this schedule together as an opportunity to help one another thrive and grow within an industry that they both love.
"As a couple, it took a while to realize how to separate our business from our personal life," admits Loren Ellis, President and CEO. "We had to learn to leave our work at the doorstep until the start of the next business day. Now when we walk through the front door we become husband and wife again."
Loren and Vanessa met while employed at Cyclonics Incorporated, a trade show house located near Cleveland, Ohio. Their relationship remained strictly professional through the years even as they worked together and managed one of the largest accounts at the company. In 2001, Loren relocated to back to his home state of California, and it wasn't until two years later the events industry brought them together once again. From that point, their bond made them inseparable and together they brought their vision for Bullz-Eye Marketing & Events to life.
Loren and Vanessa have mastered every aspect of event marketing from the ground up, and as a result their clients benefit tremendously from their experience. Unlike your average industry salesperson, they both actually worked in almost every capacity within the industry and understand the entire process from different angles.
By design, Bullz-Eye Marketing & Events' customers have a clear advantage partnering with Loren and Vanessa. They both manage to honor and preserve the customer-oriented qualities of a boutique establishment by providing hands-on client interaction, attending to individual customer needs and monitoring details. In addition to their talents, they have secured a top-notch environmental and graphic design staff as well as developing many other "key" positions, including customer service and site supervisors. With experience in one hand and love in the other, the Ellis' have discovered the formula for maintaining a progressive and talented exhibit house that can run with the big names of the industry.
The Ellis' developed an incredible support staff that shares their passion for customer service and flawless execution. Since both have many years of experience with trade shows and event marketing, they are able to approach each project with precise strategic planning, unique insight, and progressive style. With so many opportunities to network within the industry and a rapidly-growing client base, Bullz-Eye Marketing & Events is certainly one to watch.
For more information about Bullz-Eye Marketing & Events, visit: http://www.bullz-eyemarketing.com .
About Bullz-Eye Marketing & Events
As a full-service event marketing company, Bullz-Eye Marketing & Events specializes in innovative solutions for businesses worldwide. Established in 2005 by veterans Loren and Vanessa Ellis, Bullz-Eye Marketing & Events has set a standard for customer relations and high-quality products within the industry. Recognized globally for their cutting-edge design and relentless work ethic, Bullz-Eye Marketing & Events represents the new generation of "mom and pop".
###