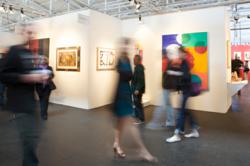 It is important to get the basic shots of keynote speakers, award presentations and the trade show floor
San Francisco, CA (Vocus/PRWEB) July 11, 2011
Annual meetings, trade shows, conventions and other corporate events may be a source for exciting news, but photos of these events can be dull and boring. San Francisco Bay Area photographer Scott Chernis says event photos can be more visually stimulating when approached in the right way.
"It is important to get the basic shots of keynote speakers, award presentations and the trade show floor," says Chernis. "But for the rest of the event you might want to play with the lighting, exposure and movement to make each photo worth the proverbial thousand words."
Chernis' top five tips for event photography are:
1. Stop using on-camera flash—or at least try to mix it up.
If you need to use a flash, diffuse it to make the light less harsh and your subject more pleasing to the eye. If possible, fire your strobe remotely from a distance to create directionality with your light.
Many events are held in venues with inadequate lighting, but there are ways to improve the quality of the shot by adjusting the ISO setting on your camera. A higher ISO setting affords you the opportunity to shoot at a faster shutter speed and allows you to shoot in low-light situations—but is also can create "noise," or blur in the image. If you need a traditional photo of an award-winner or a specific VIP, this may not be the right technique to use.
Use rear curtain sync with your on-camera flash in order to incorporate some of the ambient light into your photos. This setting will fire your flash at the end of the exposure, rather than at the beginning. This technique permits much of the ambient light in the room to be exposed and the flash will freeze whatever is stationary in the scene. You can play with this effect, but be careful because you usually want sharp detail in your subject.
2. Move around as much as possible to find fresh perspectives and unique points of view.
Photos are much more interesting when they contain something the viewer is not expecting.
"I was covering a surgeon's convention recently, and when the new doctors were presented with their certificates of graduation and admittance into the association they all turned their backs to the room and me," said Chernis. "I quickly tired of this view, so I moved to a spot near the corner of the stage where I could see all of the faces of the doctors as well as those in the room behind them. These turned out to be the best pictures of the event."
3. Engage subjects of a photo shoot, and try to put them at ease.
Remember, most people at private and corporate events are not professional models and, more than likely, they will be uncomfortable in front of the camera. You also will have limited time to take a picture at a corporate event. It can be a challenge trying to gather a group of board members or award recipients. Try making them laugh to avoid the vacant "deer in headlights" look. This is easier said than done, but the reward—if you can pull it off—is a superior photo.
4. Don't shoot too much and focus on the task at hand.
The proliferation of digital photography has created a culture of shoot everything and edit later. There are two problems with this approach. The first problem is focus. Photographers who spend all of their time with their finger on the shutter are not spending enough time composing images. Frame your shots and pay attention not only to your subject but the background as well.
The second problem with shooting too much is the amount of time you will have to spend at your computer when the shoot is finished. Throwing away poorly composed and out of focus photos is easy enough to do, but it is wasted time that would have been better spent creating an even better photograph in the first place.
5. Have fun.
Photography is work, but it is a great job. Whether you are shooting an annual meeting, a graduation or a birthday party—you are still being paid to use your camera, so be creative and remember that many of the people at the event wish they had your job.
"By employing these strategies and approaching a corporate event the same way you would shoot a music festival or fair, you can give your audience more than they are expecting," said Chernis.
Scott Chernis has 15 years' experience photographing a wide range of events from food and fashion to jazz festivals and the San Francisco Giants' World Series Parade.
For more information about event photography or any other photography services, call Scott Chernis at (415) 290-2363 or view his work on the web at http://www.scottchernis.com.
About Scott Chernis
Scott Chernis is a San Francisco Bay Area professional photographer who specializes in being a graduation, food, jazz and performance, and San Francisco event photographer. He has a wide range of clients, from alternative energy brokers to record labels, universities, and Fortune 500 companies. His work has appeared in magazines, advertisements, and websites around the world. An interest in food and culinary arts has led him to work as a San Francisco food photographer with a number of restaurants and chefs, including a soon-to-be-released book. Scott Chernis serves the San Francisco Bay Area.
###