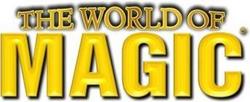 "My Client, Kaiser Permanente, was thrilled with your Magical Production! It was such a WOW event." Judy Ivie, I.C.E. San Diego
Oklahoma City, OK (PRWEB) January 11, 2011
David Thomas and The World Of Magic have been touring the country and the world for the past 15 years entertaining groups of all sizes with Las Vegas style illusions, close-up sleight-of-hand magic and comedy magic routines. David Thomas is internationally recognized as a premier organizer and producer for magic presentations in Theme Parks, Las Vegas primary showrooms, and public/private events across North America. He is now proud to produce a revolutionary magic production show designed especially for the ballroom or corporate event environment.
"Magic has always been a staple for larger showrooms and corporate events around the world," says David Thomas "but due to the specific technical needs for a high impact illusion spectacular, it was often difficult and expensive to translate these shows into the ballroom environment. We have overcome these challenges with The World of Magic and are excited to offer corporate entertainment at any level."
Through years of involvement with event specialists producing entertainment in hotel ballrooms, conferences, convention centers and a variety of event facilities. David Thomas has developed the most logical and efficient production of custom Las Vegas styled impact magic performance for corporate and special events. All aspects of event planning and pre-production have been considered in designing this program. The height of the standard ballroom, the rigging requirements and most importantly the limited amount of time to load in and rehearse have been considered.
A centerpiece of the production is the World of Magic stage set itself, complete with projection screens for the clients' message and content. This modular set with all the dressings included allows any standard stage deck to be transformed into a "theater" with multiple entrances and wings. One highlight of the production is the "magical reveal" of the events V.I.P's or Keynote speakers. Whether making a V.I.P. magically appear in a flash on a real motorcycle, or rev up the engine in a race car that appears in the blink of an eye, David Thomas at every turn makes audiences gasp in amazement while mindful of the flow and common requirements of standard corporate events.
Corporate clients such as Toyota are raving about the capabilities of David Thomas and The World Of Magic. Recently David and his team magically produced the newest automobile for Toyota in Cairo, Egypt surrounded by a ring of spectators. "This had to be the most spectacular Product Launch we have ever had, the car just appeared!" …..Toyota, Africa.
Producer of an Emmy award-winning program and Event Solutions Magazine -Spotlight Entertainment Company of the year recipient, Shows in a Box Corporate Entertainment, the parent company of The World of Magic has multiple corporate event ideas available for almost any event, venue, or theme. With over thirty years of experience of show production in the entertainment industry, Shows in A Box and the World of Magic are seen as industry leaders. Circo Magnifico, Industrial Movement, The Amazing Chinese Acrobats and Tribute to the Stars are just a few of the world class performances provided for Corporate Clients and Event Planners around the world.
David Thomas
Shows In A Box
(405) 948-2767
Contact Us
# # #