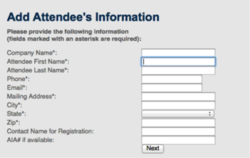 ...manage events and maximize the effectiveness of NetSuite for your business
Irvine, CA (PRWEB) September 03, 2012
Sererra Consulting Group, LLC., a world-leader in business process and technology management, announced the launch of Event and Training Management for NetSuite which eliminates time-consuming coordination and duplication of data-entry between two or three separate software packages. Event and Training Management for NetSuite is a comprehensive solution for the event life cycle and complements Sererra's broad portfolio of premium cloud based ERP, CRM and eCommerce solutions for the mid market.
Sererra's cloud-based Event and Training Management module is more than just event management software. It is a completely integrated module that ties directly with an organization's NetSuite application. Sererra's Event and Training Management Solution for NetSuite is a custom solution designed by Sererra that addresses the challenges associated with managing large volumes of events, such as training, seminars, or even internal company functions.
Some key features of Sererra's Event and Training Management include:
Attendee Management:

Provide individual attendee reminders & confirmation notices
Scheduling of the resources needed for an event (projectors, conference/meeting rooms, presenters, etc.)
Event history by attendees
Wait list management for oversold events
Event Booking:

Easily create events, copy recurring events
Utilize the power of NetSuite's event calendaring
Use integrated NetSuite inventory controls to track class profitability and costs
Use integrated financial controls for billing, invoicing
Perform event analysis & event KPI benchmarking
Payment & Checkout

Utilize NetSuite's integrated eCommerce & payment gateway for event registration checkout
Document & Service Management:

Store your event data in one place with central document management
CRM:

Powerful marketing & CRM to manage & keep track of your customers & attendees
Provide promotions to select groups
Social media interface
Product Bundling:

Ability to promote multiple events in a bundle to potential customers
"Sererra's solution ranges from a special meta-data configuration to a tailored customization and eCommerce design to manage events and maximize the effectiveness of NetSuite for your business," said Vijay Saha, CEO of Sererra Consulting Group.
Utilizing NetSuite's calendar functionality, tied to NetSuite's powerful eCommerce engine, company events, training programs and multiple attendee event management can now be easily managed all within one total system. This gives organizations the ability to better market and manage the complex workflows associated with the event management and training coordination.
About Sererra
Sererra is a leading Green IT technology and management consulting firm focusing on delivering turnkey business solutions for midmarket firms worldwide. A provider of SaaS based technology for ERP, CRM and eCommerce needs, Sererra's core areas of expertise emphasize business process engineering, systems implementation, integration and custom software development including cloud-based business processes for a wide range of industries. As a NetSuite, Salesforce.com, Intacct, SugarCRM and SAP Business ByDesign provider and integrator serving the mid-market with hundreds of implementations, Sererra provides clients with a complete unified integrated solution that enables business to grow more profitably.