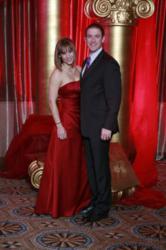 Event Photography for the Holiday Season Parties to come is in high demand.
San Antonio, TX (PRWEB) November 08, 2011
The Holiday season is here already and the planning of parties are in full swing. Hiring the right event photography company is not as easy as many think. Looking on the web will get hundreds of photographers but not all are equal. Professional Images Photography offers some great tips.
Joseph Rodriguez Owner of Professional Images say photographers are not alike. When looking for a event photographer for your company party, the suggested keywords should be, Christmas party photographer, Christmas portrait photography, Holiday party photography, Holiday portrait photography, and onsite printing photography if you plan on having photos printed onsite. These keywords are just a few to consider and can help you get to the right websites that will show you samples of work related to your needs.
Event photography and onsite printing photography is specialized and requires a set of skills that only years of experience can fine tune. Hiring a friend or a brother in law that purchased a camera from Best Buy is only asking for low quality results. It is recommended to ask for 3 references from past parties that similar in size that you are having. Actual samples sent either by email or website location to see the style of the photography will provide instant feedback on what to expect. Be sure to ask who photographer will be if it is other than the owner of the photography company. Knowing in advance and speaking to the photographer will help you have a good experience and if possible visiting with the photographer will give you a quick idea of their presentation.
Studio lighting for portraits important to create professional results of couples for portraits. Insisting on them will be appreciated when the photos are delivered. Candid photography during a party to capture the fun is another way to provide memories of a fun filled night.
Professional Images Photography has a staff of photographers that are trained not only to provide quality high end photography but are well known for professionalism and presentation. This season will be here and gone in a blink. Using tips provided by Professional Images Photography will make any meeting planner's search a little easier.
About Professional Images Photography:
Professional Images Photography has been providing Convention, Corporate and Trade-show and Event Photography since 1987. Based in San Antonio, TX with offices in Washington, D.C., New York, NY, Houston, TX and coming soon, Las Vegas, NV
###