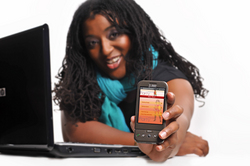 "I thought to myself as an event professional, what tools would I want at my fingertips?" Cheryl Lawson
Los Angeles, CA (PRWEB) April 13, 2010
Cheryl Lawson, Owner of Party Aficionado event planning and marketing firm and the personality behind the Party Aficionado brand, just launched an app exculsivly for Google's Android powered smart phones.
The Event Planning Tools app is really two apps in one. The first is a meeting space calculator that will help you determine how many people can fit into a particular space, or how much space you'll need for a particular venue. This application is perfect for those brides to be as they whittle down their guest lists to make everyone fit .
The second is an event budget calculator. You simply plug in the number of attendees and include all of the expenses you expect to have, including baggage fees for your staff, and the app will calculate your cost per attendee. This function is great if you're prone to get off budget. A quick plug into the budget calculator and you can see how those extra flowers will effect your bottom line.
While these tools have been around for years, Lawson felt that having a quick reference on your mobile phone was the next step in event management technology.
"A lot of people are out there planning their own events and meetings, and I thought to myself as an event professional , what tools would I want at my fingertips?" Lawson explained. "These calculators will help to keep you from making that extra purchase while you're out shopping for décor. Futhermore, if you're not sure how many people to invite to your event, these tools can help you make those decisions."
When asked why she chose Android vs.Iphone to introduce her first mobile application, Lawson replied, "The first and most obvious reason, is that I own a Android phone, and secondly, I really like the idea of open sourced content. The idea that everyone can contribute great ideas if given the opportunity is a great way to do business."
It is very clear when talking to Cheryl, that she has a passion for the events industry and the technology that drives it. Although this is the first mobile project for the self-proclaimed marketing geek, I'm sure it won't be the last. Download the Event Planning Tools app from the Android Market today.
About Party Aficionado
Party Aficionado is an event planning and marketing firm whose specialties include corporate meetings, association conferences, specialized events, gala celebrations, and social media event collaborations.
###