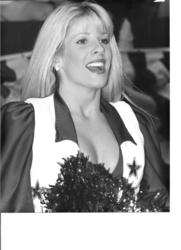 Dallas, TX (PRWEB) February 27, 2013
Park Lane Event Center, located in Dallas, announces the hiring of former Dallas Cowboys cheerleader Nicki Hale as an event coordinator and wedding planner.
Hale was a Cowboys cheerleader for four years in the 1990s. She has won over 70 state, national and world beauty and talent pageants, including Teen Colorado USA in 1987 and National Showbiz USA in 1990. Hale attended Texas Wesleyan University, where she studied Broadcast Journalism and Theatre Arts. She later became an instructor for the John Robert Powers modeling agency in Fort Worth and Elite USA's Pageants National Director.
Hale has many years of experience in the field of corporate events and shows. Her performance background and experience with press and events will make her a key player in the detailing of corporate event ventures with Park Lane.
Park Lane Event Center is located in northeast Dallas near Love Field Airport. It is part of Park Lane Ranch facilities. Park Lane offers a wide range of facilities that includes a large indoor event space, two small intimate indoor event spaces, a large outdoor patio area, grassy fields and a miniature golf area. The special-event facility includes a banquet hall, clubhouse, conference room, outdoor deck space and overall event space.
About the company:
A Dallas premiere event facility for groups of 25 to 2,000, Park Lane Event Center sits on 300 acres of beautiful manicured grounds and thick trees right in the heart of Dallas.
The Park Lane Event Center is a full-service venue that includes entertainment options, bus transportation, delicious food and versatile themes for every occasion. Park Lane's professional special-event planners help organize parties, corporate events and company picnics. Park Lane's banquet hall also makes for a top-notch wedding reception venue.
Group activities and other team-building events are also offered at Park Lane Event Center. They foster collaboration, friendly competition and hours of fun. Organized outdoor activities include basketball, batting cages, horseshoes, miniature golf, soccer, kickball and sand volleyball. Contact the Park Lane Event Center by calling 214-349-2002 or visit http://www.parklaneeventcenter.com.