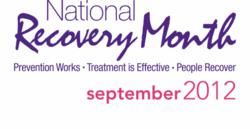 Fort Lauderdale, FL (PRWEB) September 17, 2012
National and local treatment and recovery experts will convene to address substance use disorders, a critical South Florida challenge, in the "It Takes a Village: Addiction, Recovery & Community" Webinar, as part of National Recovery Month.
When: Friday, September 28th, 2012 from 9 AM to 4 PM
Where: Main Campus of Nova Southeastern University
3200 South University Drive, Fort Lauderdale, Florida 33328
HPD Terry Building, 5th Floor - Chancellor's Dining Room
Register today to attend in person on the Main Campus of Nova Southeastern University, or, register for the online webinar simulcast. Please RSVP by September 20, 2012.
The event is sponsored by Nova Southeastern University, The United Way of Broward County Commission on Substance, Sierra Tucson and the Aspen Institude for Behavorial Assessment (proud member of the CRC Health Group), and Addiction Recovery Legal Services, Florida's only law firm specifically dedicated to substance abuse and mental health crisis intervention.
Some of the topics to be covered at this event include:

The Latest Data on South Florida's Drug & Alcohol Use Trends by NSU's Center for Study & Prevention of Substance Abuse
Community Prevention & Treatment Resources by the United Way of Broward County Commission on Substance Abuse
Addiction and the Adult Brain: Implications for Adult Prevention & Treatment by Sierra Tucson and The Aspen Institute for Behavioral Assessment
Addiction and the Adolescent Brain: Implications for Adolescent Prevention & Treatment by Sierra Tucson and The Aspen Institute for Behavioral Assessment
The Workplace & Addiction: Actions Employers Can Take by Employee Assistance Program
Addiction & Behavioral Health Intervention Resources for Professionals by PRN (Professionals Resource Network) & Florida Lawyers Assistance
Crisis Intervention, Treatment, Recovery & the Role of Florida Legal System: How Legal Intervention and Court Monitoring Can Provide Progressive Support for Effective Clinical Outcomes by Addiction Recovery Legal Services
Effective Intervention for Special Populations: Older Adults, Adolescents & VIPs by Intervention Specialties & The Treatment Solution
Expert Panel Discussions
Questions about this event can be directed to Raymond G. Ferrero III, Esq., 954-262-1479 or fraymond(at)nova(dot)edu
About National Recovery Month
National Recovery Month is a national initiative sponsored by the Substance Abuse and Mental Health Services Administration (SAMHSA) within the U.S. Department of Health and Human Services. This year's Recovery Month theme, "Join the Voices for Recovery: It's Worth It," emphasizes that while the road to recovery may be difficult, the benefits of preventing and overcoming mental and substance use disorders are significant and valuable to individuals, families, and communities. The theme also highlights that people in recovery achieve healthy lifestyles, both physically and emotionally, and contribute in positive ways to their communities.
For more information about National Recovery Month, visit: http://recoverymonth.gov/.
About Addiction Recovery Legal Services, LLC
Addiction Recovery Legal Services, LLC (ARLS) is a boutique, private, for-profit, Florida law firm that specializes in helping families deal with substance abuse through The Florida Marchman Act; a legal intervention process to compel (and monitor) substance abuse assessment, stabilization and long-term treatment by Court Order. ARLS assists families dealing with those in psychological crisis, resulting from active substance abuse. With offices in Orlando and Ft. Lauderdale, our lawyers are available to assist families throughout Florida, and also have experience assisting clients nationally (and, world-wide), who have selected Florida as their treatment destination for a loved one in crisis. We recognize the unique issues and difficulties faced by families forced to deal with a substance impaired loved one, including individuals who have a co-occurring diagnosis for both substance abuse and mental illness. ARLS is committed to helping families break the stranglehold of active substance abuse, create consequences for continued drug or alcohol use where none currently exists, and provide every active addict with a lifesaving period of extended sobriety. 1-877-35-ABUSE