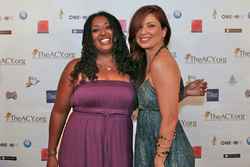 Tweetbeep is like Google alerts for Twitter
Beverly Hills, CA (PRWEB) October 12, 2009
Through the popular application Tweetbeep, Cheryl Lawson, CEO of The Perfect Date event planning and marketing firm, has several keyword alerts set up to allow her to stay on top of her brand and her competition. It also allows her to search for new clients. The application's tag-line is "Tweetbeep is like Google alerts for Twitter".
On August 4, 2009 a tweet was sent out:
@TheACY Are you or do you know a professional event planner in the LA area to assist TheACY with 9/23/09 event?
6:02 PM Aug 3rd from Ping.fm
After receiving an e-mail notice, Cheryl ,aka
PartyAficionado, reviewed the post and The Foundation's website and responded on the same day.
@Partyaficionado @TheACY Please let me know what your needs are. More than happy to help.
9:28 AM Aug 4th from web in reply to TheACY
It wasn't until a few weeks later on August 24, 2009 when TheACY's Founder, Mary Elizabeth Yoder saw the tweet and got in touch with Cheryl.
@TheACY @Partyaficionado Reviewing info...Am excited to have your participation!!!
1:49 PM Aug 24th from web in reply to Partyaficionado
Two days after connecting via Twitter, Cheryl drove from the Inland Empire to Beverly Hills to meet with Yoder and The Foundation's General Manager, Dennis Hargrove. The event planning and coordinating began at a rapid pace as the event's date had significance and could not be changed. September 23, 2009 was the 28th year anniversary of the accident that took Arnold C. Yoder's life and forever changed the lives of his wife and seven children.
In less than a month, Cheryl and TheACY team used Twitter, Facebook, YouTube, and other social networking sites to get the word out to friends, fans, and followers. A test of a live webcast was just the first step in preparing for a live feed from the event's red carpet. A social media press release via PRweb.com included Mary's Story, a video documentary that explained the journey and legacy of The Arnold C. Yoder Survivors Foundation.
"Mary Elizabeth was willing to use all of the social media tools available to help gain attention for TheACY.org's first annual Party with a Purpose," Said Cheryl. "It was important to me that the audience was able to connect with Mary Elizabeth on a personal level, and social media offers the best opportunity to make those connections."
The event was held as planned on September 23, 2009 at the famed Aqua Lounge in Beverly Hills, California.
"Cheryl Lawson of The Perfect Date came in like a super hero and took our first annual FUNdraising party to the next level. With her on our team, we were able to pull together the finishing touches on the event in just 4 weeks. Cheryl is a big ball of radiant energy and full of commitment to excellence," stated founder, Mary Elizabeth Yoder
"Her energy and stamina carried us through many times when we weren't sure we'd accomplish our goals. When working with Cheryl, you can expect many creative ideas that are original and cutting edge. Her use of social media, along with other traditional press outlets, generated a lot of buzz and excitement. Our guests commented over and over again what an amazing event we delivered."
During the event, Lawson was a calming yet directing force. "As an event leader and educator, I try to communicate to my clients and students that we spend most of our time and effort researching, designing, planning, and coordinating the event ahead of time. When the bell goes off, you have to be able to step back and let the event become what it wants to become and I'm very happy with what our event became that night", Lawson explained.
"Just a few weeks ago, Cheryl galloped into town on her white horse named Twitter and provided the crucial know-how to bring TheACY's first FUNdraiser into existence." Said Dennis Hargrove, General Manager of The Arnold C. Yoder Survivors Foundation.
"Cheryl also brought her unstoppable personality. She showed organizers a clear path they needed to follow in order to be prepared on time." continued Hargrove.
"She showed up that evening in an aubergine designer dress. So cool is this lady that she brought some of her event planning students with her so they could watch the master at work."
About The Perfect Date:
The Perfect Date is an event planning and marketing firm whose specialties include corporate meetings, association conferences, specialized events, and gala celebrations. Established long before the current online dating craze, the name "The Perfect Date" was inspired by a wine country tour through the Napa Valley with friends. Founded in 2000 by Event Specialist, Cheryl Lawson, The Perfect Date also provides valuable marketing resources to its clients.
Cheryl, aka Party Aficionado, is a social media advocate and educator. To learn more visit http://www.ThePerfect-Date.com
About The Arnold C. Yoder Survivors Foundation:
The Arnold C. Yoder Survivors Foundation is dedicated to empowerment with a two-fold mission

Healing hears of children and their families whose lives have changed forever by the death of a loved one.
-Supporting survivors on both sides of tragic events towards achieving healing through forgiveness.
It was 28 years ago on a Wednesday evening September 23, 1981 that our founder, Mary Elizabeth Yoder, was with seven of her family members when a drunk driver struck their car. Their father, Arnold C. Yoder, died within two hours. It is in honor of his life that together we are building TheACY's "Heal-a-Heart" legacy. Mary's life went upside down and inside out until she finally created the proper environment to fully grieve her loss. She now realizes that on the other side of this story is another human being, a man who simply made a bad choice. The Foundation exists to create avenues for empowering "victims" and "offenders" on their unique journey through grief - forgiveness - healing. To learn more, visit http://www.TheAcy.org
###