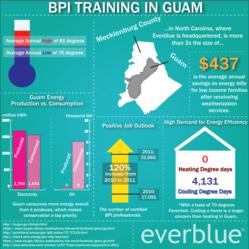 Huntersville, N.C. (PRWEB) September 14, 2012
Everblue will teach the first international BPI Building Analyst class at the University of Guam starting Monday, September 17, 2012. Historically, BPI training has only been available in the United States, but Everblue will be the first training provider and certified BPI testing center to teach the class internationally.
The BPI Building Analyst certification, which allows professionals to audit a house for energy efficiency and to suggest recommendations on how to optimize its functionality, will provide a highly skilled workforce for Guam and its proposed policy changes.
Guam is in the process of adopting the Guam Tropical Energy Code that will declare minimum building standards of energy efficiency for new construction and remodels. There are financial incentives in this code for alternative energy projects on the island through compensation for net excess generation and for the weatherization process of a house through free installation of energy efficiency products (under the Weatherization Assistance Program) along with reduced long-term energy costs.
"As this new code is implemented, there is a need for trained [professionals] to make the installations in the field," said Barney McClung, an Everblue instructor and BPI exam proctor. "Everblue is excited to be a leader in training the local workforce in anticipation of these new energy standards."
International energy efficiency training is important for a global advancement into a more sustainable lifestyle, and it can help build struggling economies. The weatherization of a home can decrease energy costs, decrease a nation's energy consumption, improve housing conditions, and educate consumers about how to be energy efficient. Through BPI's certifications, energy efficiency professionals in Guam will be able to conduct energy efficiency audits and suggest renovations to optimize a house.
Everblue's goal is to train Earth's sustainable workforce by teaching professionals worldwide how to conduct energy efficiency audits and educate individuals about the importance of sustainability training. The Tropical Energy Code is a great starting place for many countries looking to stimulate the economy and conserve energy.
For more information about international training opportunities, please contact Cadi Saunders at csaunders(at)everblue(dot)edu.
A larger view of the Everblue Incentives of BPI Training in Guam infographic.
About Everblue:
Everblue, a veteran-founded business, is the nation's premier training provider for sustainability, with course offerings in over 100 locations worldwide. Recognized by the White House as a "Champion of Change," Everblue has helped develop a highly skilled labor force in the building and construction industries. Corporate customers include the U.S. Department of Energy, Disney, Starbucks, and many others.