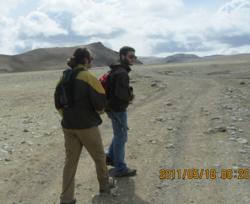 Welcome to trek through Tibet with local Tibet travel agent www.tibetctrip.com.
(PRWEB) May 24, 2013
It's mid-May, a perfect time for embarking on the Everest Base Camp Trek. Travelers from all over the world will make the four-day trek from Old Tingri to Everest Base Camp, ascending from around 4400 m to around 5300 m. Tibet Ctrip Travel Service-TCTS (http://www.tibetctrip.com) makes the trek easy and enjoyable by providing camping gear like tents and sleeping bags. TCTS is able to offer vehicle support along the route; travelers can set out in the morning with their native Tibetan guide and arrive in the afternoon to camp already set up. The Everest Base camp trek immerses trekkers in natural beauty as they make their way through wide-open mountain expanses surrounded by snow capped peaks. To help travelers prepare for their adventure, TCTS shares a few interesting facts:

The Tibet trekking portion of the adventure begins at about 4400 m (14,000 ft) and ends at over 5000 m (close to 18000 ft). TCTS arranges for travelers to spend a few days acclimatizing before ascending to higher altitudes. While acclimatizing there will be opportunities to learn about Tibetan culture and history as travelers visit world-famous cultural and historical sites like Potala Palace and Tashilhunpo Monastery. It is important for travelers to avoid intense physical activity and drink more water than normal while acclimatizing. While the terrain covered along the trek is fairly forgiving the altitude that presents the greatest challenge; this is why acclimatization is so important.
During the spring and summer the weather along the route can be absolutely perfect. However, nighttime temperatures can drop below freezing and a sunny day without a cloud in sight can quickly turn into rain or snow. For Tibet travel in the mountains, clothes that can be layered is the best way to go. Well broken in hiking shoes are also a must.
Trekkers need to east a very high calorie diet and drink lots of water. TCTS's native Tibetan guides and trekking support staff will help ensure that trekkers' nutrition needs are met while on their Tibet trek. It is very important for trekkers to eat well throughout the day, as well as in the morning and evening. The affects of the altitude can cause some to lose their appetite but it is important for trekkers to eat as much as possible even if they don't feel hungry. TCTS will provide food for the trek and can accommodate dietary restrictions.
Along the route, travelers will see some of the most beautiful scenery Earth has to offer. The long hikes and thin air can sometimes be challenging, so the most important thing to prepare for the trek is a fun and adventurous spirit. TCTS takes provides trekking support staff that set up camp and prepare nutritious meals so trekkers can rest and relax after a long day of hiking. Seeing Mt. Everest and the surrounding Himalayan scenery is a Tibet travel dream; TCTS hopes to bring this dream to reality by providing travelers with the support they need along the trek. Spring is a fantastic time for making the trek; travelers are advised to start planning their adventure now.
Tibet Travel Agency TCTS Contact Address:
Post Address: Tibet Niwei International Travel Service, Co., Ltd (Niwei Building Room 302, No.13 North Linkuo Road, Lhasa, Tibet)
Tel/Fax (Lhasa area code):86-891-6342607, Mobile: 86-13628999610 (Tony), Post Code: 850000
Email: sales(at)tibetCtrip(dot)com, TibetCtrip (at)gmail(dot)com
Devin Moore provided this news release above on behalf of local Tibet tour agency TCTS (tibetctrip.com). Devin is a travel writer and independent economic analyst based in Springfield, Missouri USA. His economic research is currently focused on airfare pricing. Devin Moore works to spread awareness of Tibet and its people through publishing Tibet travel information.