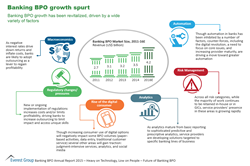 Increasing use of automation and digital channels across all banking lines of business reduces FTEs needed for transaction-based activities.
Dallas, Texas (PRWEB) July 01, 2015
From 2011 to 2014, the inclusion of robotic process automation in banking BPO contracts rose 63 percent while revenue grew 30 percent and full-time equivalents (FTEs) grew only 14 percent.
As the role of digital banking increases, service providers are looking to automate transactional processes and shift focus to more judgment-intensive offerings. However, increased digital adoption and maturity of automation solutions is leading to lower FTE requirements for the industry, prompting service providers to look for other avenues of growth.
These results and other findings are explored in a recently published Everest Group report: Banking BPO Annual Report 2015 – Heavy on Technology, Low on People – Future of Banking BPO.
"Increasing use of automation and digital channels across all banking lines of business reduces FTEs needed for transaction-based activities," said Anupam Jain, practice director at Everest Group. "Service providers are capitalizing on those opportunities to move up the value chain to deliver more complex services, such as risk management, regulatory reporting and analytics."
Other key findings:

The market for third-party BPO in banking crossed the US$3.5 billion mark in 2014, growing at a compound annual growth rate of 8 to 10 percent over a period of four years.
Recovery in growth rates was driven primarily by reduced mortgage rates and higher outsourcing in the commercial banking segment.
New contract signings is the major driver for BPO adoption, while renewals continue to remain strong as buyers prefer to continue with their existing providers.
Regulatory pressures and risk management concerns continue to be a driver of growth of BPO services.
Genpact, TCS and Xerox maintain their dominance in the banking BPO space.
***Download Complimentary 10-page Preview Report Here*** (Registration required.) This preview summarizes report methodology, contents and key findings and offers additional resources.
The full report analyzes the global banking BPO market, focusing on:

Market size and buyer adoption
Banking BPO solution characteristics across line of business adoption, technology model, automation leverage, pricing structures and global sourcing
Banking BPO service provider landscape, covering service providers' market share and presence in various geographies. The research scope comprises 16 service providers: Avaloq, Cognizant, EXL, Genpact, HCL, IGATE, Infosys, Mphasis, Serco, Sutherland Global Services, Syntel, TCS, Tech Mahindra, Wipro, WNS, and Xerox
*** Download Publication-Quality Graphics ***
High-resolution graphics illustrating key takeaways from this report can be included in news coverage, with attribution to Everest Group. Graphics include:

Banking BPO growth spurt: Banking BPO growth has been revitalized, driven by a wide variety of factors
Banking BPO global market distribution: North America spends the most on BPO, but the bulk of future growth is expected to come from Continental Europe and APAC
The impact of automation on banking BPO
Judgment-intensive services rising in banking BPO
About Everest Group
Everest Group is a consulting and research firm focused on strategic IT, business services, and sourcing. We are trusted advisors to senior executives of leading enterprises, providers, and investors. Our firm helps clients improve operational and financial performance through a hands-on process that supports them in making well-informed decisions that deliver high-impact results and achieve sustained value. Our insight and guidance empowers clients to improve organizational efficiency, effectiveness, agility and responsiveness. What sets Everest Group apart is the integration of deep sourcing knowledge, problem-solving skills and original research. Details and in-depth content are available at research.everestgrp.com.