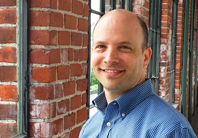 As we continue to gain momentum with larger customers like Wayfair, Publishers Clearing House, Palms Casino Resort, and Rue La La, this expanded leadership team will enable us to better support the company's future growth.
Boston (PRWEB) July 09, 2014
Evergage, the market-leading provider of real-time web personalization, today announced that Andy Zimmerman has been named Chief Marketing Officer (CMO) and Arthur Sweetser has been named Executive Vice President (EVP), Chief Customer Officer (CCO). Following 200 percent consecutive quarter-over-quarter revenue growth since the launch of its platform one year ago, Zimmerman and Sweetser will help further the Evergage mission to make the technology, expertise and business value of automated, personalized marketing accessible to all marketers. Both executives will report to Karl Wirth, Evergage's Chief Executive Officer.
"Andy Zimmerman is a software industry leader who has consistently delivered strong revenue growth in his marketing, sales and business development roles," said Wirth. "Given his demonstrated success, we are pleased to welcome him to Evergage as CMO as we continue to build and scale our marketing machine and partner program.
"Andy will work closely with Arthur Sweetser who will now lead our customer success initiatives, helping clients maximize their marketing investments by optimizing site conversions, as well as overseeing our enterprise sales efforts," continued Wirth. "As we continue to gain momentum within larger customers like Wayfair, Publishers Clearing House and Palms Casino Resort, we believe this new organizational structure will enable us to better support the company's future growth. I'm looking forward to working with our expanded leadership team as we continue to execute on our strategy and expand our share of the market for real-time web personalization."
Zimmerman brings to Evergage proven expertise helping cloud-based software companies launch products, drive demand, improve sales productivity, and develop revenue-generating partner programs. Previously, he was CMO at Brainshark after stints as VP of Product Marketing and VP of Business Development. Prior to Brainshark, Zimmerman served in senior sales and marketing roles with companies including Theikos, Virtusa, edocs and Kenan Systems. He holds a bachelor of arts degree from Brown University and a master's in business administration from the Kellogg School of Management at Northwestern University.
Sweetser joined Evergage in August of 2013 as CMO, where he has helped the company achieve remarkable performance milestones and prominent client wins in ecommerce, travel, financial, marketing, content and technology. A growth-driven business leader with a track record of scaling multi-million dollar digital marketing companies, Sweetser has also helped previous employers – including 89 Degrees, e-Dialog and S&H Greenpoints – successfully target, win, support and grow new client engagements. He also led e-Dialog's Professional Services group and helped the email service provider grow from $7 million to $90 million in just four years. Sweetser holds a bachelor's of science degree from Babson College.
About Evergage
The Evergage platform delivers real-time web personalization to more than 120 million web visitors, optimizing site conversions and customer success for over 110 organizations, including Experian, Gardener's Supply Company, Millward Brown Digital, Palms Casino Resort and Publishers Clearing House. Evergage's solutions empower marketers and customer success teams with real-time dynamic content and inline messaging features, behavioral analytics and segmentation, and integrations with other top CRM and SaaS providers. Founded in 2010 as Apptegic, Evergage is a 2014 MITX What's Next Award winner, a NEVY Award finalist and a Red Herring Top 200 North American company. Evergage has offices in Boston, San Diego and Atlanta. For more information, visit http://evergage.com or contact the company at sales(at)evergage(dot)com or 1-888-310-0589.
###