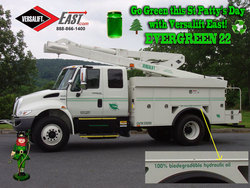 Bethlehem, PA (PRWEB) March 14, 2009
Things are normally green on St. Patrick's Day; but this year Versalift East has added Green hydraulic oil! Versalift East, Inc. is pleased to announce our factory standardization on 100% Readily Biodegradable Hydraulic Oil - Evergreen 22. Evergreen 22 has been extensively tested and proven in Versalift aerial equipment (and many other types of specialized hydraulic equipment). This environmentally friendly hydraulic oil allows the user to avoid the damage and costs associated with a petroleum based spill. Evergreen 22 also outperforms all of the major petroleum based products, even in the worst conditions. The most unique feature is that Evergreen 22 can be mixed with an equivalent petroleum product without causing any damage to hydraulic equipment - that means…zero damage from mixing mistakes in the field.
Evergreen 22 is available through Versalift East's parts department at Biodegradable Hydraulic Oil or by calling 888-866-1400. Go Green with Versalift East!
# # #