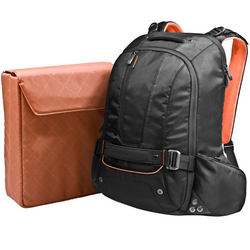 We wanted to partner with Fry's because their customer base is ideally suited for the Beacon
Irvine, CA (PRWEB) September 29, 2010
Everki, makers of mobile lifestyle products designed to carry and protect digital equipment, today announced that its popular Beacon Laptop Backpack w/Gaming Console Sleeve (Model: EKP117NBKCT) is now available at all of Fry's Electronics retail locations.
"We wanted to partner with Fry's because their customer base is ideally suited for the Beacon," said Vyrio Ngo, director of sales at Everki. "We are excited to have our most popular design available for their customers before the holidays."
Gamers will appreciate the Everki Beacon's stylish design, and combined with the ability to carry laptops up to 18.4" as well as an Xbox 360, PS3, or Wii in an included protective gaming console sleeve, the Beacon is everything they could want when on the road.
Rugged and stylish, the Beacon is designed for comfort even with heavy loads and harsh conditions. The spacious main storage compartment features a large zippered pocket, dividers, and an assortment of multifunction accessory slots. A clever buckle system allows the compartment to open halfway for quick access or a full 180 degrees for easy loading.
Availability
The Everki Beacon Laptop Backpack w/Gaming Console Sleeve (Model: EKP117NBKCT) is available immediately at all Fry's Electronics retail locations.
As with all Everki products, the Beacon is backed by Everki's Limited Lifetime Warranty and world-class customer service.
About Everki
Everki designs and manufactures stylish and innovative bags that carry and protect the digital equipment we use everyday. Everki products go through a rigorous design and testing process in order to meet long term usability standards. Everki distributes products throughout North America, Australia, Asia, and Europe. For further information, visit Everki's Website at http://www.everki.com
Copyright © 2010 EVERKI International Co. Ltd. All rights reserved. Everki and Everki logo are registered trademarks or trademarks of Everki International. Other company and product names are trademarks of their respective owners.
# # #