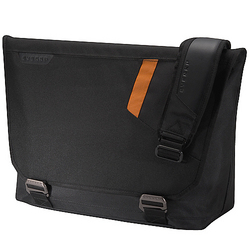 We wanted to create a true messenger bag that customers can carry their laptop and iPad, Kindle, or tablet together.
Irvine, CA (PRWEB) September 9, 2010
Everki, makers of mobile lifestyle products designed to carry and protect digital equipment, introduced today the Track Laptop Messenger with an extra pocket specifically made to carry an iPad, Kindle or tablet.
"People who have bought the iPad, Kindle or other tablets want to be mobile. Messenger style bags are the perfect choice for people on the go, looking for simplicity and portability. According to data recently released from Yahoo!, a majority of iPad users are in the 35-44 years old range," said Vyrio Ngo, Everki USA, Inc.'s director of sales. "We wanted to create a true messenger bag for customers that could carry their laptop and iPad, Kindle, or tablet together. The Track is casual and stylish enough to use everyday, but with enough sophistication to take into meetings."
The Track Messenger comes with ample storage space, designed to fit a laptop, an iPad, cords and accessories, with plenty of room to spare for other essentials.
The front features a safety reflective strip for extra protection at night, especially convenient for bicyclists looking for a versatile laptop bag. The front also features a two-system closure, Velcro on the inside front flap for quick access, and Everki buckles for extra security. The Track can also be easily converted into a carry-on bag for travelers.
Pricing and Availability
The Everki Track Messenger Laptop Bag (Model: EKS618) is priced at $59.99 (SRP) and is available immediately at major online resellers like http://www.compusa.com, http://www.tigerdirect.com , http://www.circuitcity.com and http://www.newegg.com.
As with all Everki products, the Track is backed by Everki's Limited Lifetime Warranty and world-class customer service.
About Everki
Everki designs and manufactures stylish and innovative bags that carry and protect the digital equipment we use everyday. Everki products go through a rigorous design and testing process in order to meet long term usability standards. Everki distributes products throughout North America, Australia, Asia, and Europe. For further information, visit Everki's Website at http://www.everki.com
Copyright © 2010 EVERKI International Co. Ltd. All rights reserved. Everki and Everki logo are registered trademarks or trademarks of Everki International. Other company and product names are trademarks of their respective owners.
###