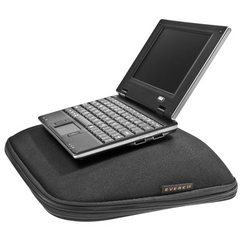 No more fussing with trying to balance a small netbook on your lap or cramped hands while typing on a tiny keyboard
Irvine, CA (PRWEB) December 4, 2009
Everki, makers of mobile lifestyle products designed to carry and protect digital equipment, today introduced the Camber EVA Netbook Case (Model: EKS616EBK) to reconcile the age-old problem of portable and ergonomic design.
"Netbooks are great for the traveler because of their small size but using them on the road has not always been the most convenient," remarked Vyrio Ngo, Everki USA, Inc.'s director of sales, "We wanted to design something to not only carry and protect netbooks and accessories, but can work as a mobile desk so that productivity doesn't have to stop while sitting at the airport. No more fussing with trying to balance a small netbook on your lap or cramped hands while typing on a tiny keyboard."
The Camber's clever 'incline' design allows the outer EVA protective shell to double as a convenient travel desk or lap stand for a vastly improved typing position. A uniquely designed quad-surface dual Velcro interface strap system allows for quick changes between sling and briefcase carrying, or complete strap removal to turn the Camber into sleeve mode for stowage inside another bag. Unlike most netbook cases, the Camber also provides plenty of room for the power adapter and accessories. Convenient mobility truly meets ergonomic design in the Everki Camber.
Pricing and Availability
The Everki Camber EVA Netbook Case is priced at $49.99 (MSRP) and is available immediately at CompUSA stores nationwide and on the web at http://www.compusa.com, http://www.tigerdirect.com, http://www.circuitcity.com.
As with all Everki products, the Camber is backed by Everki's Limited Lifetime Warranty and world-class customer service.
For more information on this product or the company, visit Everki's Website at http://www.everki.com.
About Everki
Everki manufactures stylish and innovative lifestyle products that carry and protect the digital equipment we use everyday. Everki products combine comfort, convenience, durability and style. Everki distributes products throughout North America, Australia, Asia, and Europe. For further information, visit Everki's Website at http://www.everki.com.
Copyright © 2009 EVERKI International Co. Ltd. All rights reserved. Everki and Everki logo are registered trademarks or trademarks of Everki International. Other company and product names may be trademarks of their respective owners.
###