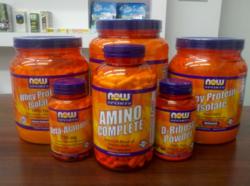 We want to communicate to our customers who are sports enthusiasts, weight trainers and body builders that EverydayVitamin.com has products specifically for them.
Brooklyn, NY (PRWEB) December 21, 2012
"Our goal as a nutrition company is to carry a wide array of vitamin and supplement options that best fit the needs and lifestyles of our customers. The sports nutrition market is a growing and increasingly popular segment of nutrition, and we want to ensure that we carry those products that our customers demand," said Wayne Xu, Everyday Vitamin Nutrition LLC's Vice President. "We want to communicate to our customers who are sports enthusiasts, weight trainers and body builders that EverydayVitamin.com has products specifically for them."
Now Foods Sports Nutrition products focus heavily on amino acid and protein powder supplementation using ingredients at very high dosages. This is because, proteins and their building blocks, amino acids, play a significant role in supplying needed energy, losing body fat and building muscle. There are over 20 types of amino acids that aid bodybuilding - nine of which are classified as essential amino acids, while the others are categorized as non-essential.
L-Glutamine is a non-essential amino acid, naturally occurring in the body, and can be consumed in the diet. However, it is necessary for muscle building and endurance. L-Arginine and L-Ornithine are both popular supplement choices for body-builders, separate or in combination. They also naturally occurring and can be consumed in the diet. Together they are involved in the removal of ammonia, a by-product of protein when broken down by intestinal bacteria from the body, and the formation of adenosine triphosphate (ATP) and creatine, an organic acid that supplies energy to the cells, including muscle. The product also contains a balanced amount of other essential and non-essential amino acids. Now Foods Amino Complete is a proprietary blend of proteins these amino acids. Users receive a dosage of 3000mg of amino acids with a four capsule per day regimen.
Beta-Alanine is a naturally occurring amino acid that can be consumed in the diet. It is also known by its trademarked name CarnoSyn® and component of the histidine dipeptides carnosine and anserine, as well as vitamin B3, or pantothenic acid. When consumed as a dietary supplement for bodybuilding nutrition, Beta-Alanine is directly involved in forming muscle carnosine, which is an antioxidant needed for muscle endurance and prevent buildup of hydrogen ions during high-intensity exercise, and thus, fast muscle fatigue. Now Foods supplementation with Beta-Alanine provides 2250mg of this amino acid by taking three capsules per day.
D-Ribose is a 5-carbon sugar, a key element of RNA, and combined with adenine, it produces adenosine for ATP. As part of a work-out supplementation, it helps restore energy, and reduce muscle stiffness, soreness and fatigue. It aids athletic performance by supplying cells with ATP needed for cellular energy, and the body with endurance. This product is popular among athletes. Supplementation with Now Foods D-Ribose Powder provides 5000mg of energy to the user with 1.5 teaspoons per day in a liquid or smoothie of choice.
Whey Protein, Pea Protein, and soy protein come from different sources but have some similarities. Whey protein comes from cheese and thus has cholesterol. Both pea and soy protein are cholesterol free as they come from legumes (yellow peas, and soybeans). Both whey and pea protein are high in branched chain amino acid content, which is necessary for bodybuilders and weight trainers for high energy workouts. Both whey and pea protein is bioavailable and easily digested. Although it has less calories than whey or pea protein, soy protein is a great substitute for animal protein. Soy protein also contains low fat and carbohydrates which may not be most optimal for building muscle, but soy protein contains all nine essential amino acids necessary for muscle growth.
EverydayVitamin.com carries other Now Foods Sports Nutrition supplements including, but not limited to:

Tribulus
L-Glutamine
L-Arginine Powder
Arginine and Citrulline
ZMA, Sports Recovery
Dextrose Powder
About Everyday Vitamin
Everyday Vitamin Nutrition LLC, is a natural health company based in Brooklyn, NY and online retailer that aims to promote nutrition and health through the sale of vitamins and supplement products, herbs and homeopathic remedies. These products include vitamins, minerals, dietary supplements, diet and weight loss teas that provide numerous health benefits that assist in weight loss management, exercise nutrition and improving overall health.
Everyday Vitamin carries hundreds of well-known, trusted brands such as Genesis Today, Life Extension, Nature's Way, and Now, which have been proven safe and effective by solid scientific research.
Visit Everyday Vitamin at: http://www.everydayvitamin.com for more information.