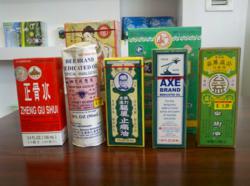 [Chinese medicine] is based on the principle of restoring harmony and peace to the mind by eliminating diseases. Now at Everyday Vitamin, shoppers can combine the traditional and alternative medicines of Solstice.
Brooklyn, NY (PRWEB) January 10, 2013
Everyday Vitamin, a natural products company and online retailer of branded vitamins and dietary supplements, announced that they are an authorized retailer of Chinese herbal Solstice Medicine Company products. Everyday Vitamin shoppers have access to hundreds of Chinese medicinal products from Solstice Medicine Company. Holistic-conscious people who begin using these herbal and medicinal supplements for overall health find that they feel better, have better mental clarity and more energy.
"Chinese medicine has existed for over 23 centuries. Its basic holistic approach to obtaining and maintaining optimum health is used worldwide," said Wayne Xu, Vice President, Everyday Vitamin Nutrition LLC. "It is based on the principle of restoring harmony and peace to the mind by eliminating diseases. Everyday Vitamin shoppers can combine the traditional and alternative medicines of Solstice. We make these life-giving herbs, oils, teas and other remedies available online to Everyday Vitamin shoppers."
With Solstice products and other Chinese herbal manufacturers such as Prince of Peace, Everyday Vitamin is becoming a leading alternative medicine retailer.
"Our inventory of Chinese herbal products has expanded tremendously and we are growing into one of the best and most trusted retailers of holistic medicine products for a broad range of health concerns in our local community and online," Xu said.
Solstice Medicine Company has been providing a broad array of Chinese medications for over 20 years. They are one of the most comprehensive Chinese-American pharmaceutical providers in the United States. Solstice is a company has proved itself to be invaluable. Their fast, reliable service parallels their excellent reputation in bringing customers the best ingredients possible. All of their products are manufactured according to Good Manufacturing Practices and approved by the Food and Drug Administration.
Solstice offers its customers Chinese medications for a broad array of health conditions, including allergies, anti-aging, antifungal, bone health, cold/flu, cough, arthritis and more. They also offer medicinal Chinese products for the sinuses, heart, muscles, pain, the immune system, foot care and for digestive problems. Solstice has the largest inventory of products worldwide.
Solstice uses all natural ingredients in their formulations that have been known for their healing attributes for centuries in Eastern Medicine.
For example, Ryukakusan herbal powder supports the health of the respiratory system, and fang-feng Root, fo-ti root, Chinese giant hyssop branch and leaf and drynaria rhizome are some of the ingredients in Tongren Dahuoluo Dan, a herbal supplement for maintenance of the circulatory system, blood vessels, muscles and heart. Other ingredients and spices used in their formulations include cinnamon, which has been known to aid digestion, clove as an anti-fungal agent, and [ginger as an anti-inflammatory.
Western medicine finds a cause and treats it. Eastern medicine takes an additional step by maintaining overall physical and mental health and harmony. This is why Westerners are flocking to practitioners who are adept in Chinese medicine.
"Solstice Medicine Company's herbal supplements are designed to better overall health. Our patrons will be pleasantly surprised at the wide selection of Solstice Medicine Company's supplements and other health products," said Xu.
Shoppers can peruse EverydayVitamin.com for Solstice products here.
Products can be purchased online at EverydayVitamin.com, by phone, or from our store location at:
8610 25th Ave Brooklyn, NY 11214
Phone: 1-800-709-6280
About Everyday Vitamin
Everyday Vitamin Nutrition LLC, is a natural health company based in Brooklyn, NY and online retailer that aims to promote nutrition and health through the sale of vitamins and supplement products, herbs and homeopathic remedies. These products include vitamins, minerals, dietary supplements, diet and weight loss teas that provide numerous health benefits that assist in weight loss management, exercise nutrition and improving overall health.
Everyday Vitamin carries hundreds of well-known, trusted brands such as Genesis Today, Life Extension, Nature's Way, and Now, which have been proven safe and effective by solid scientific research.
Visit us for more information.