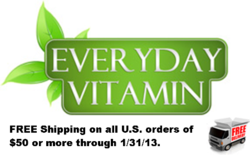 Brooklyn, NY (PRWEB) January 14, 2013
Everyday Vitamin, a natural products company and online retailer of branded vitamins and dietary supplements, announced that they have extended free shipping offer on all orders of $50 or more through January 31, 2012.
The offer, which began before Christmas, spurred both new and existing customers to stock up on their favorite vitamins and supplements for the approaching winter season. In response to the overwhelming demand and positive feedback, Everyday Vitamin has extended the promotion through the end of the month.
Customers can enjoy free shipping on all orders of $50 or more within the contiguous United States and can expect to receive their orders within approximately 2-3 business days for priority shipments, or 4 business days for first class.
Free shipping applies to all orders made online or over the phone. There is no coupon code required for this promotion. Normal shipping rates apply to all international orders.
Shoppers can visit http://www.everydayvitamin.com to purchase products online or call 1-800-709-6280 to place an order. Orders are shipped on business days (Monday-Friday) only, excluding U.S. federal holidays.
About Everyday Vitamin
Everyday Vitamin Nutrition LLC, is a natural health company based in Brooklyn, NY and online retailer that aims to promote nutrition and health through the sale of vitamins and supplement products, herbs and homeopathic remedies. These products include everyday vitamins, minerals, dietary supplements, diet and weight loss teas that provide numerous health benefits that assist in weight loss management, exercise nutrition and improving overall health.
Everyday Vitamin carries hundreds of well-known, trusted brands such as Genesis Today, Life Extension, Nature's Way, and Now, which have been proven safe and effective by solid scientific research.
Visit Everyday Vitamin at: http://www.everydayvitamin.com for more information.