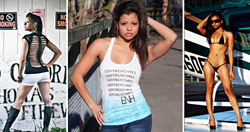 San Diego, CA (PRWEB) March 20, 2014
With pictures of breathtaking stunts, beautiful women, and amazingly talented people all gathered in one place as well as some nifty gear available at their online shop, EverythingNoHands.com is a one stop destination for those looking for fun clothing, enthralling entertainment, inspiring content and good times. The website also makes it easy for guests to find more of what they enjoy most by dividing all posts into easy to browse categories. One favorite category is the "Hot Girls Archives".
Recent additions to the Hot Girls Archives include a sizzling hot photo gallery of ENH model, and former member of the U.S. Air Force, Ashley Henry, video footage of a hula hoop photo shoot with another Ashlee of Everything No Hands, and a video shared of a very provocative no hands car wash. The Hot Girls Category is also subdivided into sections that cover everything bikinis to handcuffs, and hula hooping to yoga pants. The new photo section is just one of many that EverythingNoHands.com has released since the launch of the website earlier this year.
The new website is dedicated to all sports and activities that do not require the use of hands. Featuring everything from no-handed snowmobile stunts to amazingly skillful no-handed pole dancing poses, Everything No Hands does its best to keep visitors enthralled with the awesome, fun, crazy, sexy and sometimes bizarre world of living life with "No hands!"
Aside from the content posted by EverythingNoHands.com, the website also prompts visitors and users to "Submit your awesome, super cool, ballsy, jaw-dropping, omfg, handcuffed, tied up, hilarious and sexy no-hands pics and selfies" by posting them via the picture upload feature on EverythingNoHands.com or emailing them to the site administrators. These pictures will be added to the other content already available in the Girls, Xtreme, Sports and WTF sections of the website. EverythingNoHands.com also encourages visitors to the site to sign up for the mailing list that sends email updates on any new content on EverythingNoHands.com and also gives those who join the mailing list access to special offers, custom content and more.
To see the hot new gallery, click here, or visit EverythingNoHands.com.