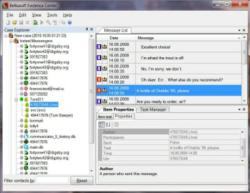 St. Petersbourg, Russia (PRWEB) April 29, 2011
Belkasoft announces the release of the second version Belkasoft Evidence Center, the company's flagship computer forensic tool. Evidence Center 2.0 helps security and forensic specialists collect digital evidence from PCs, including Internet chat logs, Web browsing history and email communications.
The company has added numerous enhancements to the Belkasoft Evidence Center, including the following:

Retrieval of deleted data for instant messenger and Web browser artifacts
Live memory analysis on attached Live RAM images
Support for attaching Encase, SMART and DD images, including multi-part images such as ones produced by Tableau
Support for Skype 5 and Skype chatsync analysis, improved Skype 4 analysis, better Skype group chats and file transfer presentation
Support for QQ 2009/2010/2011, Qutim and Gadu-Gadu (version 6) instant messengers
Extraction of additional browser information including stored passwords, saved form values, favorites, cached items and cookies
Extraction of Outlook 2010 mailboxes (.pst and .ost)
Automatic resolving of MSN user names from their hash values (e.g. decoding the real user name such as user@hotmail.com from an encoded name such as "user1122334455")
Improved ICQ 7 file transfer presentation
Multiple other improvements and enhancements
In addition, a comprehensive user manual is now available online.
"This new edition of our flagship forensic tool covers all the features that ever appeared in any of our previous products," says Yuri Gubanov, Belkasoft CEO. "Per our customers' requests, Evidence Center 2.0 combines the functionality of no less than five different forensic tools. This new release is more powerful than ever, while the pricing remains the same."
Designed for major security agencies and police departments, the Enterprise version of Evidence Center 2 allows multiple users working simultaneously on the same case while using a shared database over a local network.
Pricing and Availability
Belkasoft Evidence Center 2.0 is immediately available at http://belkasoft.com. The Standard edition is available for $999.95, while the Enterprise edition is available for $9999.95.
About Belkasoft
Founded in 2002, Belkasoft is an independent software vendor specializing in computer forensics and IT security software for PCs running Microsoft Windows. With the slogan "Forensics made easier", Belkasoft provides IT security experts and forensic investigators with solutions that work right out of the box, without require too steep of a learning curve or demanding deep knowledge or any specific skills to operate.
Along with the flagship Belkasoft Evidence Center, Belkasoft is also known for Belkasoft Forensic IM Analyzer, Belkasoft Forensic Studio, Belkasoft Forensic Carver, Belkasoft Browser Analyzer, and other products used in forensic investigations, law enforcement, intelligence, corporate security and parental control.
Belkasoft customers include the FBI, U.S. Army, US Secret Service, police departments in Germany, Norway, Australia, and New Zealand, PricewaterhouseCoopers, and Ernst & Young.
More information about the company and its products is available at http://belkasoft.com.
###