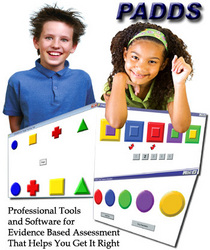 Okeechobee, FL (PRWEB) March 19, 2009
Recent developments in ADHD research and assessment have prompted a move toward evidence-based assessment practices among mental health professionals. To ease this transition, Targeted Testing has developed PADDS, a suite of computer administered neuropsychological tests of attention and executive functioning that more accurately identify ADHD in school-aged children.
The American Academy of Pediatrics and the National Institutes of Health have frequently indicated the need for standardized evidence-based assessment procedures and tools, with solid clinical and psychometric properties, that can be applied in primary care and traditional settings. The PADDS program is specifically designed to address this need and is easily administered in school, primary care, and other clinical settings.
PADDS accomplishes this by using an updated view of ADHD symptoms and causes, combined with powerful new objective measures of executive functioning, and an actuarial scoring process that allows each individual piece of evidence to add to or detract from a probability of diagnosis in an effective manner, with the goal of reducing both over identification and under identification of ADHD.
"Pediatric Attention Disorders Diagnostic Screener (PADDS) is an innovative, highly reliable and valid screening instrument for children at risk for and with attention disorders. PADDS includes three brief and highly engaging target subtests that measure important aspects of executive functioning. I applaud the authors for developing this highly sensitive and valuable instrument," said Linda A. Reddy, Ph.D. Associate Professor, Rutgers University Director, Child ADHD and ADHD-Related Disorders Clinic, The Graduate School of Applied and Professional Psychology in Piscataway, NJ.
Although ADHD is one of the most frequently diagnosed childhood disorders, its variable nature has created difficulties for clinicians regarding the issue of diagnosis.
Previous assessment theories were centered on attention and concentration, which appear to moderately correlate with DSM-IV classification. However, by including aspects of modern research such as Barkley's model of behavioral inhibition, PADDS' Target Tests of Executive Functioning effectively tap into the underlying processes of executive functioning, which correlate more strongly with reported classroom performance and valid ADHD diagnosis. Additionally, the rapidly increasing numbers of mental health professionals who are currently using or being trained in the use of these evidence-based assessment methods illustrates the need for better-integrated assessment tools.
PADDS is designed for use by Pediatricians, Psychiatrists, Psychologists, and other qualified mental health professionals. It is available directly from Targeted Testing and other major psychological test publishers.
Targeted Testing Inc., founded by Dr. Thomas K. Pedigo Ed.D. and Kenneth L. Pedigo, are currently developing and researching new lines of computer administered and evidence-based assessments systems to be used in screening psychological disorders. Their primary developmental approach consists of two main areas of focus. The first relates to integrating an updated construct of the disorders and the specific criteria, while the second addresses the issue of integrating user-friendly tools with current, validated research, to enhance diagnostic accuracy in an efficient manner.
Targeted Testing Inc. is a member of the Association of Test Publishers.
###