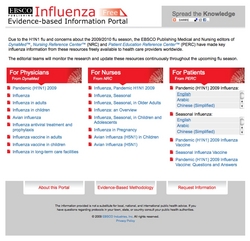 Ipswich, MA (PRWEB) September 9, 2009
Concerns about Pandemic H1N1 and the upcoming flu season have people on alert and the medical and nursing editors from EBSCO Publishing (EBSCO) are responding by making the latest evidence-based flu-related information available for free at http://www.ebscohost.com/flu.
The site will provide evidence-based clinical information from DynaMed™ and Nursing Reference Center™, EBSCO's clinical and nursing point-of-care databases, along with patient education information in 17 languages from Patient Education Reference Center™.
The information provided For Physicians and For Nurses consolidates the best-available evidence from multiple sources along with the latest evidence-based content for health care providers to stay current with recommendations for monitoring, diagnosing, and treating patients with flu-like illnesses.
The For Patients section includes current, easy to understand articles written for non-medical professionals. The site adds patient education information in 17 languages including: Arabic, Chinese (Simplified), Chinese (Traditional), English, Farsi, French, German, Hindi, Italian, Japanese, Korean, Polish, Portuguese, Russian, Spanish, Tagalog and Vietnamese. The patient education information allows hospitals to have resources to provide to their diverse local communities and people to have access the latest treatment & condition information about Pandemic H1N1 and Seasonal Influenza that is easy to understand.
The goal of the site is to be open to all and easy to share among medical colleagues, parents, students, faculty, employees and co-workers so that preventative measures are well-known and symptoms and treatment options are understood. Medical institutions, organizations, universities, schools and public libraries will be able to easily add links to the EBSCO influenza portal to their own flu resources pages and websites.
In April, EBSCO Publishing was the first clinical information provider to make the clinical summaries on the Pandemic H1N1 virus available for free. The medical and nursing editors responsible for EBSCO's point-of-care resources continually monitor current information and update the resources in order to ensure that the worldwide medical community has the best available medical evidence. The site pulls together the information collected about the Pandemic H1N1 outbreak and other strains of the flu ensuring the best available medical evidence will be easy to find going into the 2009/2010 flu season.
About EBSCO Publishing
EBSCO Publishing is the world's premier database aggregator, offering a suite of nearly 300 full-text and secondary research databases. Through a library of tens of thousands of full-text journals, magazines, books, monographs, reports and various other publication types from renowned publishers, EBSCO serves the content needs of all medical professionals (doctors, nurses, medical librarians, social workers, hospital administrators, etc.). The company's product lines include proprietary databases such as CINAHL®, DynaMed™, Nursing Reference Center™, Patient Education Reference Center™, Rehabilitation Reference Center™, Rehabilitation & Sports Medicine Source™ and SocINDEX™ as well as dozens of leading licensed databases such as MEDLINE®, PsycARTICLES® and PsycINFO®. Databases are powered by EBSCOhost®, the most-used for-fee electronic resource in libraries around the world. For more information, visit the EBSCO Publishing Web site at: http://www.ebscohost.com, or contact: information@ebscohost.com.
EBSCO Publishing is a division of EBSCO Industries Inc., one of the largest privately held companies in the United States.
###