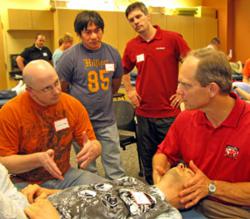 Faculty provided hands-on guidance and advice to these therapists, sharpening their skills and granting them examples to draw from when they are back in the clinic.
Louisville, KY (PRWEB) June 14, 2011
Evidence In Motion (EIM) is pleased to report that Manipalooza was a very successful event for all physical therapists and physical therapy students and faculty in attendance. Manipalooza was held on May 21-24, 2011 in Denver, Colorado consisting of 4 days of hands on learning in manipulation, soft tissue techniques and pain management strategies for physical therapists.
The 4 day event kicked off with "Maniaplooza Mosh", a morning of short presentations covering hot topics in physical therapy, such as barriers in clinical education, positive deviance, the latest news in physical therapy training, and the quality of clinical care. Participants then spent three and a half days learning manual therapy techniques from leaders in physical therapy research and education. Topics such as, "Mobilization with Movement," "Advanced Ribcage Manipulative Management," "Craniomandibular Manipulative Management," and "Instrumented Soft Tissue Techniques" were highlighted.
"Manipalooza was even bigger and better in 2011 than we expected," states Tim Flynn, PT, PhD, EIM principle and faculty member. "Participants will take the knowledge they learned immediately into the clinic to help patients see better results from their therapy. Faculty provided hands-on guidance and advice to these therapists, sharpening their skills and granting them examples to draw from when they are back in the clinic."
Faculty at Manipalooza included: Andrew Bennett, PT, DPT, Larry Benz, PT, DPT, Bob Boyles, PT, DSc, John Childs, PT, PhD, MBA, Josh Cleland, PT, PhD, Tony Delitto, PT, PhD, FAPTA, Julie Fritz, PT, PhD, Jack Miller, PT, MCISc, Paul Mintken, PT, DPT, Jason Rodeghero, PT, DPT, MPT, Tim Flynn, PT, PhD, and Rob Wainner, PT, PhD. EIM's faculty, which includes those at Manipalooza, has received nearly 100 research grants, totaling over $10.5 million. EIM faculty members have also taught 220 university level courses, founded over forty different business organizations, and held appointed positions in forty state and 115 national and international professional associations.
Sponsors at Manipalooza included, The American Academy of Orthopaedic Manual Physical Therapists (AAOMPT), Focus on Therapeutic Outcomes (FOTO), Oakworks Medical, Rocky Mountain University of Health Professions, KinetaCore Physical Therapy Education, TRX, and SourceMedical.
EIM plans to host Manipalooza again in 2012. For more information visit their website, EvidenceInMotion.com
About Evidence In Motion (EIM):
Evidence in Motion (EIM) is an education and consultation company whose sole reason of existence is to elevate the physical therapy profession and the role of physical therapists in healthcare delivery. A strong dedication to fostering the creation and assimilation of an evidence-based practice culture within the physical therapy profession is a cornerstone of Evidence In Motion's mission. They have put in place evidence-based practice treatment pathways in many facilities and aims to promote the global sharing of information and ideas, thus advancing evidence-based physical therapy practice, research and education around the world. Evidence In Motion offers Continuing Education, Residencies, a Fellowship Program, a Musculoskeletal Transition DPT, and an Executive Program in Private Practice Management with optional Transition DPT. For more information, please visit EvidenceInMotion.com. You can also find Evidence In Motion on Facebook and Twitter, @EIMTeam.
# # #