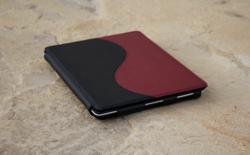 "With the rise of tablets, smart phones and mobile computing, we felt that the time had come to give consumers a chance to express themselves and their digital lifestyle in more unique and fashionable ways."
Costa Mesa, CA (PRWEB) December 15, 2011
The market is awash with iPad cases that look generic at best to downright boring at worst. A small group of creative young entrepreneurs in California decided that it was time to infuse a bit of style and color into an at times unimaginative accessories market and the EVIO brand was born.
"With the rise of tablets, smart phones and mobile computing, we felt that the time had come to give consumers a chance to express themselves and their digital lifestyle in more unique and fashionable ways."
Evio's first product, the Harmony case, features a design rooted in eastern philosophy, emphasizing the idea of balance between style and technology. With an infusion of deep burgundy and premium elements, it achieves an elegant look that is sure to make a statement regardless of setting, be it a boardroom meeting, college campus or just cozying up in a coffee shop.
The Harmony case is available now and can be ordered though Evio's official website at Evioconcepts.com with free shipping offered till the end of the year.
EVIO continues to develop a great product pipeline for leading tablets, phones and computers, aiming to bring them to the market in the near future. With the promise of style and affordability, EVIO is a brand to keep an eye on.
About Evio
Evio was founded in 2011 with the goal of creating innovative products for the emerging tablet and mobile computing market. Nestled in Costa Mesa, just a short trip from the sunny beaches of Southern California, our creative team works hard to create beautiful products to complement today's digital lifestyle. Our brand is a reflection of our philosophy as we nourish creative thinking and promote the free flow of ideas in our team.
If you would like more information about Evio, please e-mail us at pr(at)evioconcepts(dot)com
CONTACT:
Evio PR
Office: (949) 525-4410
pr(at)evioconcepts(dot)com
http://www.evioconcepts.com
###