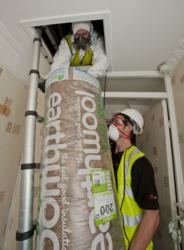 We're delighted to have joined The Green Deal Finance Company, it's an exciting time for the Green Deal as the scheme is gaining momentum.
(PRWEB) August 09, 2012
Today The Green Deal Finance Company secured a £7m loan from the Department of Energy and Climate Change (DECC). The loan will be used to develop the finance structures and credit rating of TGDFC, enabling the organisation to offer low cost financing to households. The Company intends to be operational from early 2013, when the first Green Deal loans will be offered to consumers.
The move by EvoEnergy to join the TGDFC demonstrates the company's commitment to the Green Deal and its importance in reducing household energy bills. Whilst primarily a solar energy installer, EvoEnergy offers further services including loft and cavity wall insulation, boiler replacement, heating controls and voltage optimisation.
EvoEnergy CEO, Dr Hard said "We're delighted to have joined The Green Deal Finance Company, it's an exciting time for the Green Deal as the scheme is gaining momentum. As a company we're looking forward to helping as many customers as possible control their energy future and combat rising household bills. We're already set up to offer a number of the existing Green Deal measures, and we're keen to see which other measures DECC introduces."
Paul Davies, partner at PwC, one of the founding companies behind The Green Deal Finance Company Limited said:
"DECC's support for The Green Deal Finance Company is fantastic news for the industry. Our members, both private and public, are committed to the Green Deal to lower carbon emissions and address fuel poverty. For TGDFC to access the cheapest sources of finance, we need a strong credit rating and a first rate loans administration capability. This funding will allow us to meet those objectives."