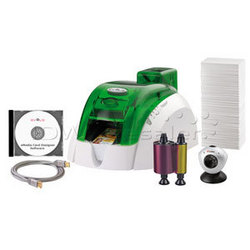 New York, NY (Vocus) June 17, 2010
A secure Identification Printing solution is a necessity for every organization - schools, government institutions, banks, and membership clubs all require the exclusivity and security that identification printing can provide. Yet despite the clear need for identification printing across the broad spectrum of organizations, identification printers have, until recently, only worked on windows-based systems.
Excluding Macintosh-based organizations from the benefits of identification printing has been a terrible business decision for the ID card printing world, as both the number of Mac-users and growth potential of Apple are tremendous to say the least.
IDSecurityOnline.com understands the importance of providing an ID Card Printing solution to customers running their organizations on a Mac-based system. Evolis ID Card Printers are now compatible with Mac OS X, providing Mac-based organizations with benefits such as monochrome, full color, and high-volume printing. Furthermore, IDSecurityOnline.com offers customers free Mac OS X drivers via a download from evolis.com.
While potential customers may be annoyed with the apparent lack of Mac-compatible options, Evolis ID Card Printers are very versatile, reliable, high performing, and low maintenance, all of which are available on IDSecurityOnline.com. For example, the Evolis Pebble4 comes in one of three sleek colors of your choice (Ruby, Glacier, and Lagoon), has Ethernet connectivity, and prints at a rate of 150 cards per hour. The Pebble4's thermal transfer and color sublimation printing technologies mixed with extreme ease of use enable Mac-users to make highly personalized ID Cards.
Besides providing you with Mac-based solution, IDSecurityOnline.com can include everything you might need into an ID Card Printer "Bundle," a discounted package including an ID Card Printer such as the Pebble4 or Tattoo2, ID cards, ribbons, cartridges, and identification printing software.
###