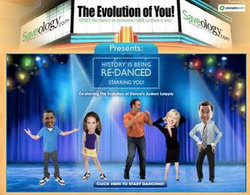 We're excited and fortunate to have two exceptional partners in Saveology.com and Judson Laipply to launch a new website that combines a fun product with a great service that will help people save money during this uncertain time
Santa Monica, CA (Vocus) December 17, 2008
A new website featuring a viral application based on the video sensation "Evolution of Dance"--the most watched user-generated Internet video of all time, including more than 100 million views on YouTube --debuts today to help put a smile on people's faces and give them a break from economic stresses, international worries and financial scandals.
Anyone and everyone can get an exclusive first look at some of the dances that will be in the upcoming "Evolution of Dance 2" video by participating in "Evolution of You!" at http://www.eod2.com . Just add an image of yourself, a friend, a family member or even a pet and watch your characters dance with inspirational comedian and renowned "Evolution of Dance" star Judson Laipply. Then share a laugh with everyone you know by emailing them your creation or embedding it into your homepage on Facebook, MySpace and other social networks.
"Evolution of Dance 2," the sequel to the 2006 video that took the Internet by storm and helped put YouTube on the map, will launch in January with a sneak peek on television and in partnership with a major Internet video site.
Sign up to be the first to see "Evolution of Dance 2" at http://www.eod2.com !
FACTS & HIGHLIGHTS
"Evolution of You!" is the new interactive viral application that previews "Evolution of Dance 2," the sequel to the video sensation "Evolution of Dance."
"Evolution of Dance" is the web's most-watched user-generated video of all time.
"Evolution of You!" features user-generated characters dancing through the decades of life and music with the one and only "Evolution of Dance" star Judson Laipply. Characters start out in diapers and age through to retirement while busting moves to songs including James Brown's 1965 hit "I Got You (I Feel Good)" and 2007's "Crank That" a Grammy-nominated song from internationally renowned-rapper Soulja Boy."
Users can add up to two images and send the dance they create to everyone they know; show your friends and family members what it's like to groove with dancing legend Judson Laipply to classic songs for every generation.
Each time you play back your dance, watch for new accessories and changes to your outfit. Save and send the one you like best!
Give the gift of fun and savings: at the end of the video, viewers have the option to connect to Saveology.com™, a free comparison-shopping site that saves consumers time and money and enables seamless, one-stop purchase and scheduling of their essential services, and PeopleJam.com , the number one self-improvement site that makes life on a budget a better life.
QUOTES
"It's fantastic to be bringing the 'Evolution of Dance' sequel to the millions of people who loved the original. The 'Evolution of You!' application is a fun way to preview EOD2 and build anticipation while reminding consumers that Saveology.com provides people with the next evolution of shopping for and saving on essential personal services," said Saveology.com CEO Benny Aboud.
"We're excited and fortunate to have two exceptional partners in Saveology.com and Judson Laipply to launch a new website that combines a fun product with a great service that will help people save money during this uncertain time," said PeopleJam CEO and Founder, Matt Edelman. "Working together, we've found a unique way through the 'Evolution of You!' application to give consumers something they've been waiting for - the sequel to 'Evolution of Dance' - and simultaneously provide a marketing platform for a service that can improve people's financial situation, Saveology.com."
"I can't tell you how often I've been asked to make a sequel to 'Evolution of Dance!' It took the right partners in Saveology.com and PeopleJam.com to make it happen. I know that fans will have a ton of fun with the 'Evolution of You!' application we've created at EOD2.com. There are some great songs, fresh moves and a few surprises too! And if you sign up at the site, you'll be among the first to see the sequel - 'Evolution of Dance 2'" said Judson Laipply, inspirational comedian and the creator of Evolution of Dance and its sequel.
LINKS
"Evolution of You!" demo
EOD2.com
PeopleJam
Saveology.com™
YouTube Evolution of Dance
About PeopleJam
PeopleJam.com is the first social utility to truly empower users to discover what works - and what doesn't - in self-improvement. The site helps people determine the best and most relevant products, resources, experts and information that will have a positive impact and help make life on a budget a better life. PeopleJam's robust product catalog is powered by user reviews, professional and user-generated content, advice and customized community tools. Visitors to PeopleJam maximize the value of the time and money they spend on self-improvement across a wide range of life topics within Health & Fitness, Money & Career, Love & Relationships, Spirituality and more. PeopleJam also operates the internet's first and largest advertising network dedicated to life improvement. For more information, visit http://www.peoplejam.com.
About Saveology.com™
Saveology.com is a leading comparison-shopping portal providing immediate access to valuable savings on home services and entertainment options from the leading brands. From moving assistance to saving money on monthly bills, Saveology.com sells and schedules more than 100,000 essential consumer services each month. These include satellite television, digital cable, high-speed Internet, home phone service, credit cards, wireless phones, insurance, home security, moving services, and more. Saveology.com employs 500 people between its headquarters in Fort Lauderdale, Florida and its facility in South Plainfield, New Jersey. With new features coming to the Saveology.com website in January 2009, the company is continually making it even easier to compare and uncover the best offers on an unmatched spectrum of products and services. To learn more, visit http://www.saveology.com.
CONTACT:
Vanessa Friedman / (212) 751-3342
Erica Annon / (212) 751-3415
Leslie Gant / (310) 255-0225
###