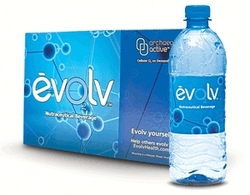 Evolv is a fighter's 'secret weapon'
Dallas, TX (PRWEB) March 30, 2010
A new beverage called Evolv (http://mmadrinkevolv.com) has hit the mixed martial arts ("MMA") scene, and everyone from fans to fighters and even major MMA organizations are not only drinking it but are positioning themselves to distribute it.
Evolv is the first all-natural enhanced beverage of its kind. It's not oxygen water; it's not vitamin water -- it's a proprietary scientific formula that helps the human body increase oxygen at the cellular level. This formula has been mixed with premium spring water and the combination enhances cell performance and increases stamina, energy, and endurance. It's the extra advantage an athlete needs to compete, and the reason it's being called a fighter's 'secret weapon'.
Click here to register for a free case of Evolv and receive a free autographed photo of UFC & PRIDE fighter Tra Telligman.
After drinking Evolv, professional fighters have reported increased stamina and endurance, heightened concentration and alertness, and faster recovery from fatigue. The company asked former UFC champion Guy Mezger about his results, and he said, "My mind is focused like never before, my rest between rounds seems to have accelerated, and my muscle strength improved, all at the same time. This stuff is for real!"
The Dallas-based company, EvolvHealth LLC, is moving the product into the market using an innovative direct-sales business model. Evolv's Master Distributor Jim Lutes states: "This way we can launch a superior product and allow everyone to share in the profits from the forecasted millions in sales. Everyone wins." The company is now in the early stages of its expansion. It will be aggressive.
UFC & PRIDE fighter Tra "Trauma" Telligman, who is also an Evolv founding member, says:
Right now, my partners and I are gearing up to launch this product into national distribution. We're establishing key markets in the US and Canada and have our sights set on an aggressive expansion plan to be in 20 countries over the next 5 years. Currently, we are putting a core team of elite business builders in place to take Evolv worldwide through direct distribution, allowing everyone to share in the profits. We're inviting sharp, driven individuals to be a part of our team.
"With no competition, it's a runaway train that's only going forward," Telligman said. "We couldn't stop it if we tried."
Anyone wanting to jump in on the profits and be in business directly with Tra Telligman should contact him at 972-365-5415 for the details or click the link below.
Click Here to Find Out How You Can Become a Direct Business Partner with Some of the Greatest MMA Fighters… and Get Your FREE Personally Autographed Photo as a Bonus.
For more information, contact:
Tra "Trauma" Telligman
972-365-5415
###