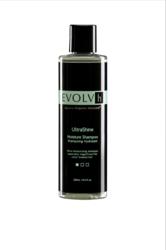 "Best All-Natural Conditioner," Real Simple Magazine
San Francisco, CA (PRWEB) May 24, 2011
Start your day with the ultimate shower indulgence - EVOLVh Luxury Organic Haircare's New UltraShine Moisture Shampoo and Conditioner. Packed with botanicals and a proprietary blend of 20 herbs that repairs and restores, EVOLVh delivers organic luxury and exquisite performance. It's enough to make anyone's day brighter, with shinier and healthier hair than ever before.
EVOLVh UltraShine Moisture Shampoo and Conditioner are perfect for all hair types. It's color safe, sulfate free, and its lightweight formula makes it ideal for fine hair since it won't weigh hair down, and will promote volume and fullness. In curly, thick or coarse textures, it results in hair that is softer and more manageable, and reduces frizz. It is free of any harsh surfactants (sulfates) and potentially toxic preservatives (parabens). The shampoo cleanses gently and adds shine, while the conditioner infuses moisture and nutrients, leaving hair lustrous and nourished. Real Simple Magazine named UltraShIne, "Best All-Natural Conditioner. " EVOLVh hair products are designed specifically for people who desire the best of both worlds - healthy ingredients and superb performance.
UltraShine Moisture Shampoo Key Ingredients:

Seaweed extract adds shine
Lecithin repairs and restores
Safflower oil protects, nourishes, hydrates and firms hair. Rich in essential polyunsaturated fatty acids, it is highly beneficial for dry, color treated hair, and helps to reduce protein loss
Meadowfoam ( in pHytoBlend) infuses moisture
Mango, vitamin C and apricot, moisturizes and smooths hair, reducing frizz
Sunflower protects against UV/UVA rays and adds shine and smoothness
Citrus aurantifolia deep cleans pores and detoxifies the scalp
UltraShine Moisture Conditioner Key Ingredients:

Soy amino acids repair and increase the hair's ability to retain moisture and imparts shine and gloss to damaged and dull hair. It also easily penetrate the hair shaft and binds to hair's inner fibers
Passion Flower and Palm Oil detangle
Palm oil, soya, and glyceryl monostearate add moisture
Soya is rich in fatty acids and vitamin E, and is readily absorbed by the hair. It is also an emollient, which helps to strengthen the hair's moisture barrier
Vitamin C balances pH and smooths the cuticle. Necessary for collagen formation, vitamin C is also an antioxidant that removes impurities
Lecithin promotes healthy hair growth
Wild Pansy helps protect the integrity of color treated hair
Sunflower protects hair from heat styling, and inhibits absorption of UV/UVA rays and adds shine
pHytoBlend (proprietary concentrate blend of 20 herbs in an aqueous base [argan, wintergreen, meadowfoam, carnauba, burdock, grape, cranberry, pine, tourmaline, orchid, quinoa, seaweed, cedar, lycopene, neroli, pomagranate, petitgrain, sunflower, tamanu, yucca]) nourish hair.
Retail price is $24 for the shampoo and $25 for the conditioner, and available for purchase online at fine salons and beauty retailers, and online at http://www.evolvh.com.
# # #